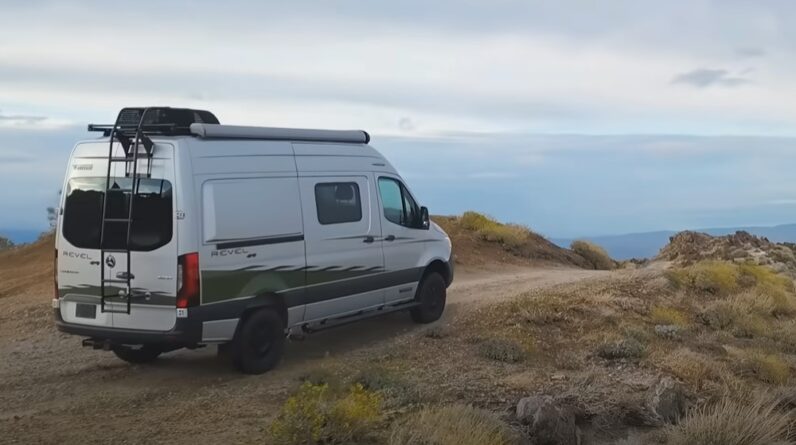 10 Best Camper Vans Motorhomes with Bathrooms
A camper van with a bathroom gives you that extra bit of comfort in the great outdoors. These converted vehicles function as an accessible gateway to your desired vacation. There is tremendous growth in the RV and camper areas, with Outdoorsy even seeing a 4,500% increase in bookings throughout the pandemic.
More than ever, millennials are finding reprieve in the great outdoors, and camper vans seem to be the outlet for that more than anything.
Mind's Eye Design! Designing and manufacturing RVs for over 45 years at their state-of-the-art facility, Jayco's dedication has earned them a network of over 150 dealers and service agents.
1. Optimum
The Optimum is just one of their monuments to that dedication. A sleek, stylish exterior with a modern minimalist interior creates a perfect mixture of luxury and convenience. The interior has all the accouterments you could wish for, an air conditioner, club lounge bed converter, double bed, three burner stove, and all the works.
The interior also includes an ensuite bathroom with a hot water shower, sink, and swivel toilet, so all your creature comforts are taken care of. And for entertainment, the Optimum has a 24″ LED tv with a Furion 3300 sound system and WiFi.
2. Revel Winnebago
Since its conception, America's poster child for recreational vehicles, Winnebago, has been a leader in the industry. From RVs to campers of every kind and make, they know what they're doing. The Revel comes in at nearly 20 feet long and is their top RV debut in 2021.
It has two 125-amp hour batteries, which are excellent for the Hydronic Heating System and ensuring that the two people the Revel can sleep are as comfortable as possible. Underneath the power lift bed is a gear garage, and next to that is the all-in-one gear closet and wet bath.
3. Dinnette
The dinette has been redesigned with features to elevate comfort. While the interior is built to last a long time and be easy to clean. Most RV's manufactured in the U.S. come from the same place for 60 % of the RVs created and distributed are built in Elkhart, Indiana.
4. Coachmen RV
Coachmen RV says they are built with one simple principle: their dedication to enriching your life. Long-term value is found with their company and, more specifically, their RVs. Built on the Ram Pro Master 3500 extended chassis, the Nova is a profound exclamation point to the end of their principle.
With a choice of two superb floorplans, you will undoubtedly be enriched. Two 110 Watt solar panels, 330AH 8D battery, 24″ LED tv, and WiFi are all equipped in the Nova, ensuring that you won't leave behind the modern world in your travels.
5. Kitchenette
The kitchenette includes a 2-burner cooktop and refrigerator for all your culinary needs. The wet bath contains a shower, toilet, and water heater so that you can enjoy your comforts anywhere. After 40 years in the automotive and recreational industry, Sunliner knows nothing stays the same for too long.
Their ability to adapt and improve is apparent. With five layouts and two model options, the Rialta is their latest addition to the Sunliner name. It has a 100Ah in-house battery with an 80w solar panel and regulator.
If we swing around to the kitchen, we'll find the fridge, which comes in 21 or 26 gallons, a 3-burner stovetop, and a microwave. The bathroom cubicle is where you'll find the cassette toilet. Attached to the hot water service is the external shower.
6. Rialta
The Rialta is also outfitted with AC and a diesel heater so that no matter where your wheels take you, you'll be able to fully enjoy your stay. Bringing more than 13 years of experience in furniture construction, interior design, and marketing and sales is the German company LOEF.
They don't have a range of models but a single one named after the company. So what does this special camper van have to offer? Well, the outdoor ceramic grill is a nice start. And the outdoor shower and mini-bar are just the cherry on top.
The interior also has its own pluses, the least of which is the seating area that can host 10 and can be converted to a sleeping area for four. The kitchen has a 4-burner stove with an integrated oven, a fridge with a freezer, and a sink to keep it all clean.
The comfort extends through the inside and out, and that includes the bathroom. The cassette toilet has an electric flush, the mirror is equipped with lighting, and the shower area can be converted in a few simple steps.
7. Airstream
Founded by an innovative war vet in 1929 who was fixated on creating the best commercial travel trailer, comes Airstream. They have only improved following their explosive popularity after their first trailer.
Interstate 19 is just one of their latest ventures using the Mercedes-Benz Sprinter 2500 van chassis. It keeps all the value of the Interstate and packages it in a smaller, nimbler variety. This 19-foot camper fan can seat four and sleep up to two comfortably.
Having a one-floor plan may eliminate customization, but it also ensures a quality experience. It has the largest bed in its class and other comforts such as air conditioning and a generator controlled on the Multiplex Control and Monitor.
Two 100Ah batteries help control the features like the powered awning. You can enjoy abundant hot or cold water in both the kitchen and bathroom. The kitchen features a countertop sink, microwave, ultra leather seating, and a LED TV.
8. SS Agile
After seeing a breath of new life breathed into the company in 1980, Roadtrek has been ever-increasing their line of camper vans. One of our favorites from them is the SS Agile, with its excellent use of interior space, ease of driving, and loads of safety features.
The sleek, simple exterior of the camper van pairs nicely with the similarly elegant and modern interior. Atop the SS Agile is the 3324watts-hour air conditioning. Also outside is a shower, 330 watts of solar, and a retractable power awning.
The interior is roomy enough to seat five and sleep up to three with the optional folding mattress. The galley features a 2-burner propane stove, stainless steel sink, and 3.1 cubic feet refrigerator and microwave.
The permanent bathroom is spacious with a marine toilet and stand-up or sit-down shower.
Swift is the largest manufacturer of touring caravans, motorhomes, and holiday homes in the UK. They have a grip on the recreational vehicle industry. When you see a camper van like the Select, you know the flexibility with several layouts to choose from and the well-equipped essentials.
The Select panel van comes with a slew of features such as cab air-conditioning, an identification system to ward off theft, and thermally insulated windows. You will find a modern 'eider' interior scheme throughout the living area.
Lounge seats flank the main table with rotating leaf extension and a second table near the rear. The kitchen is stocked with all the essentials; a 3-burner gas hob, stainless steel sink, and a waste bin.
The washroom is located close by and has a mirrored vanity cupboard, shower mixer with retainer, cassette toilet, and a roof light. Fleetwood RV is part of the REV Group Inc., a leader in the motor vehicle industry.
9. Fleetwood RV
Fleetwood RV now remains one of their most recognized brands. The Irok is more than a luxury Class B camper – Fleetwood RV believes it to be the new age of modern RVs, and we're keen to agree. Standard features for this immaculate piece of tech include a 28-gallon freshwater tank and rooftop solar panel.
If you're imagining a kitchen equipped with a refrigerator, induction cooktop, microwave, and removable dinette table, then you have clearly seen this one before. That's no surprise, the Irok is a beauty, and the comforts are aplenty as well.
A large shower with a sink and a porcelain toilet comprise the restroom. And for a modern family with modern needs, there is a LED smart TV with an HD digital antenna and WiFi. Following the Irok is our number one, which also happens to be a bespoke member and brand of the REV Group Inc.
10. American Patriot
American Coach brings us the American Patriot, the spirit of luxury. With unmatched elegance and style, the American Patriot is expertly crafted by the most talented craftsmen. You have a selection of six diverse and fulfilling floorplans, so you can find what's best for you no matter your needs.
With the American Patriot, you will find a 5.8kW AC, 320 Watts of solar, and more. Cable TV input, an outdoor shower, and upgraded sumo suspension are just some of the standard exterior features you will find with this big girl.
A simple glance inside, and you will see a beautiful interior outfitted with a small kitchenette with a sink and cooktop. The microwave sits above the refrigerator across from the galley. Overhead cabinets are found above the lounge area.
The living space can also be converted for sleeping, and the bathroom has a shower, sink, and porcelain toilet. When choosing a camper van, what is the most important thing for you? Let us know in the comments! If you enjoyed this video you can help us out by hitting the like button, subscribe, and keep up to date on future posts.