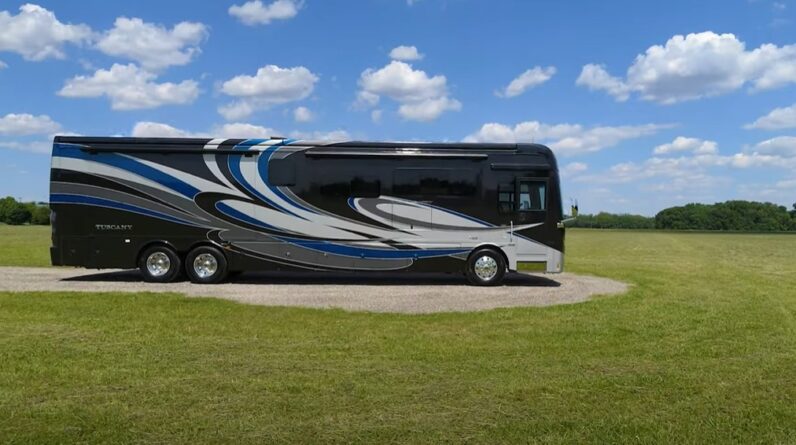 Tuscany Luxury Class A Diesel Motorhome
When you experience the luxurious and tasteful interiors Create in the fully equipped kitchens and spend a chilly morning tiptoeing across the heated floors, that's when you realize, when you are in a 2021 Tuscany from Thor Motor Coach, you can escape, without ever leaving home.
And when your home looks, feels, and is furnished like this… it's easy to forget about all the outside distractions. Walking In Tuscany, you're greeted by the optional studio collection… show here in Regatta and Sanibel wood.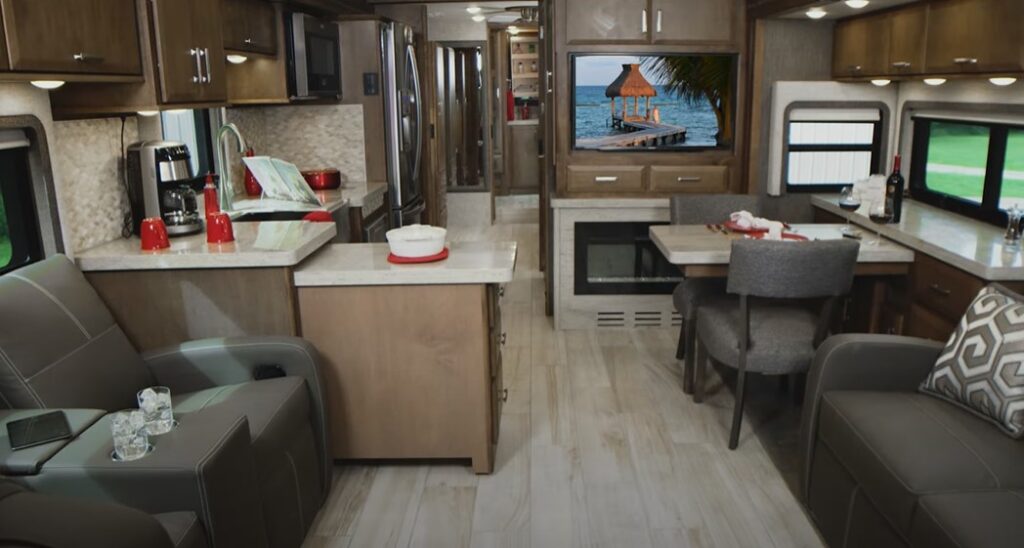 Decorations
Stretching across numerous cabinets… The beautiful look is even incorporated into the Decorative ceiling treatment with mood lighting…. Moving through the living area of this Luxury Class A Diesel Motorhome you find all the creature comforts one could ask for… ensuring time spent here is all the more enjoyable Up front, the plush, reclining, swivel, power-adjustable captain's chairs become part of your living area after your drive is complete.
Floorplan
Reach down on the passenger seat to extend the electric footrest. Each Tuscany floorplan… the 45MX and the 40RT… can be optioned with comfortable furniture designed to pamper. Meet the sofa ensemble.
Kitchenette
Where your sofa flows into the dream dinette. Picture yourself here… head on the pillow… feet up enjoying a moment… or entertaining family friends… The dream dinette is a charming place to enjoy time together over meals… If you'd rather.
You can opt into the buffet dinette. The table pulls out to seat 4. And the large countertop offers up a generous amount of room. Reclining theater seats are the perfect companion for a night at the movies… as your Tuscany is the drive-in theater.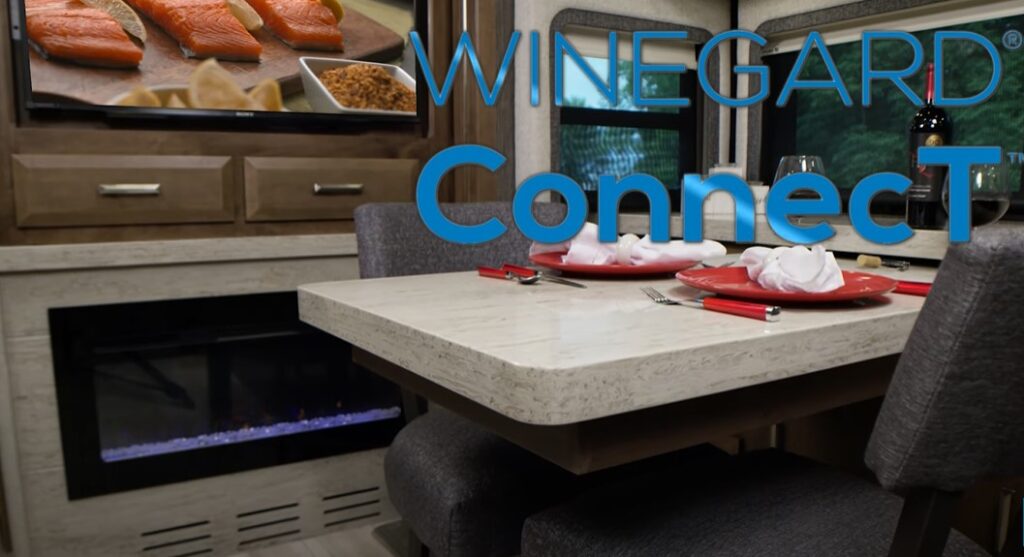 Entertainment Features
All the Entertainment features you could want are here… a soundbar, a blue ray player a Winegard™ TRAVELER HD Satellite Dish, and smart TVs you can stream to. All you need to do is set up the Winegard connect 4G hot spot and Wi-Fi extender.
Tap into a nearby Wi-Fi signal or create your own safe, secure internet connection. The TVs are on a televator and are controlled with Rapid Camp Plus. This is your all-in-one control center. Monitor your tank levels, set your auto-gen start.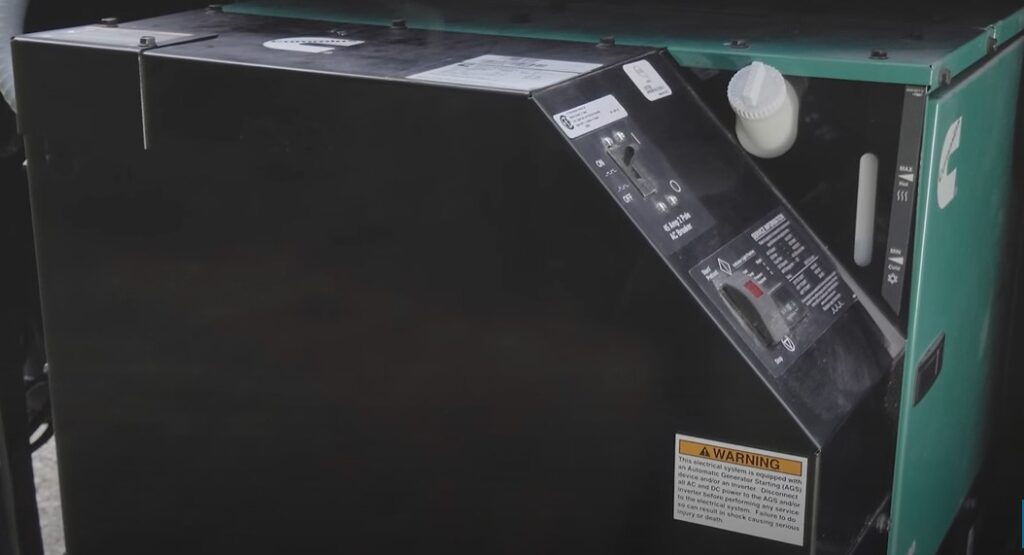 Power Supply
Look at your power… are you running on 50 amp shore power, or the 2800 watt pure sine inverter. Extend or retract slides and awnings. Turn on your AC's or furnace, open and close vents. You can use the full-color touch screen and remote panels or download the app to your phone or tablet and have control from inside or outside your Tuscany.
Also standard on the Tuscany 200 watts of solar charging to keep your 6 house batteries at peak power. We know mornings can be chilly. So you'll appreciate the Gold Heat electronic heated flooring throughout the coach for barefooted walks across the hand-laid porcelain tile floor.

Electric Fireplace
On crisp nights you'll enjoy sitting in front of the electric fireplace with a heater. Even grabbing a blanket and a game from the spacious cabinets. Keeping the Tuscany clean is as simple as a few passes with the central vac system Both the MX and RT are bath and a half models.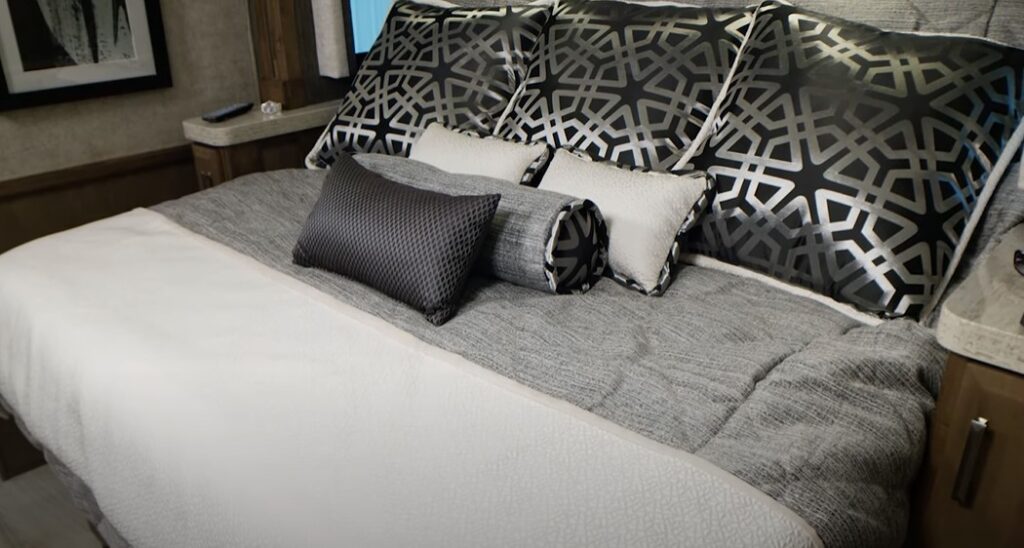 Bedroom Features
Guests will find the half baths mid-ship welcoming, roomy and private. Heading into the bedroom, all Tuscany floor plans are equipped with a Pillowtop, tilt a view King Size Bed. Position yourself perfectly for reading….
Watching TV and for an excellent night's sleep. Because you'll want to be away longer when you travel in a Tuscany you'll find Large closets offering hanging space for all your clothes, hats, shoes, and all your favorite accessories.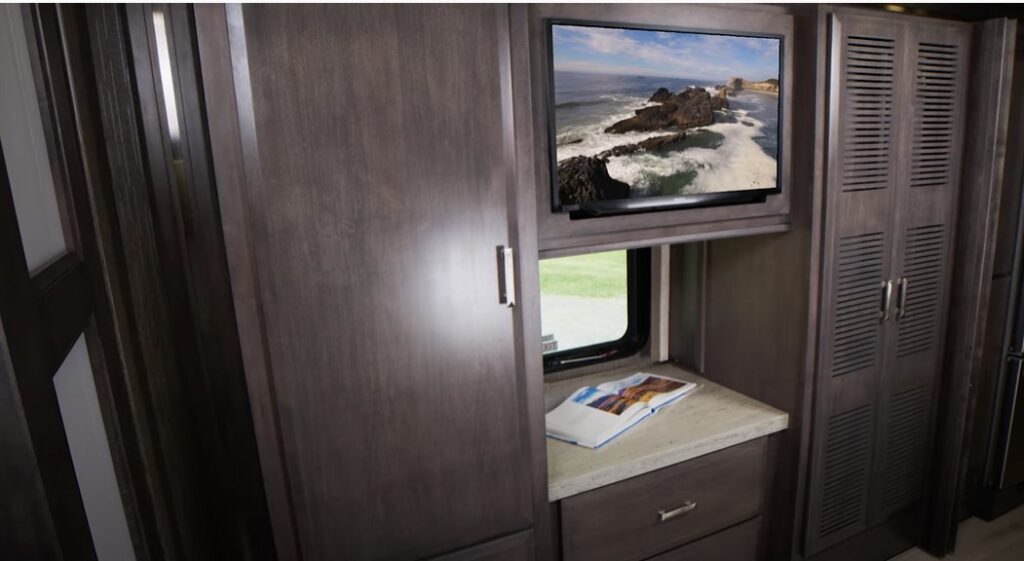 Dressers
The dressers feature a generous amount of drawers…. Along with large dress tops equipped with outlets. In the master bath, you are surrounded by opulence. The large shower with tile surround features a skylight, sliding glass door, and dual shower heads to rinse you into relaxation.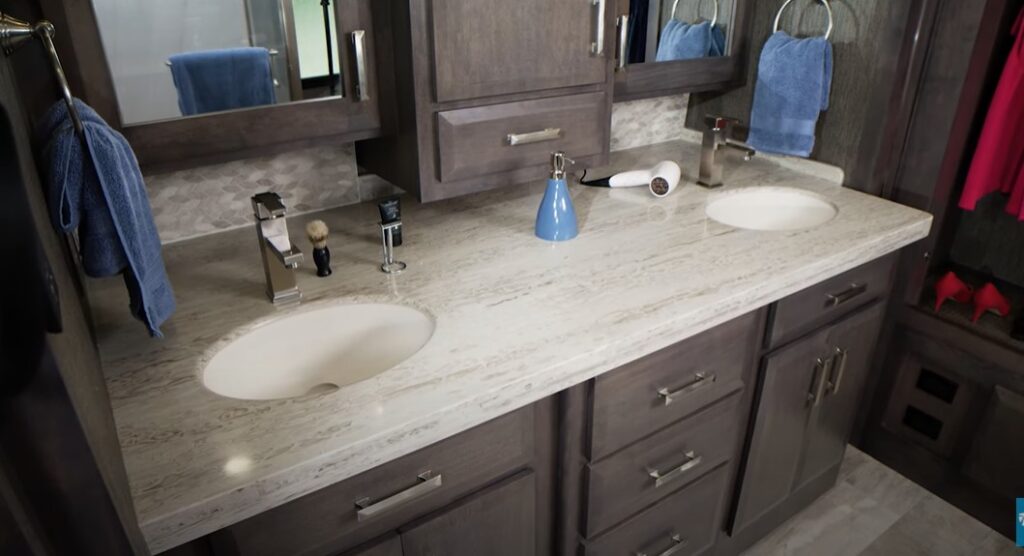 Bathroom
The 45MX features dual sinks each with a medicine cabinet above and drawers and cabinets below. In the 40RT… the pull-out storage shelves allow you to have all the extras you need. All Tuscany models feature a Macerator porcelain toilet and a stackable washer and dryer.
The Tuscany is prepared for all your overnight guests. The sofa and dream dinette are quick and easy to make into a comfortable bed for the night and the Tuscany comes standard with and the standard Power Drop-Down Hide-Away Overhead Bunk with Cotton Cloud™ Mattress When it comes to spending time in the kitchen.
The Tuscany provides you with the counter space, tools, and storage you need You to have expansive solid surface counters…. Surrounding your Large Single Bowl Stainless Steel Farmhouse Sink & Single Handle Faucet w/Pull-Down Sprayer.
The sink can be covered. To create the perfect place for your cookbook. The pull-out countertop extension provides that extra space you need for your cutting board or hot dish. Tuscany offers a residential fridge with an ice maker and water dispenser.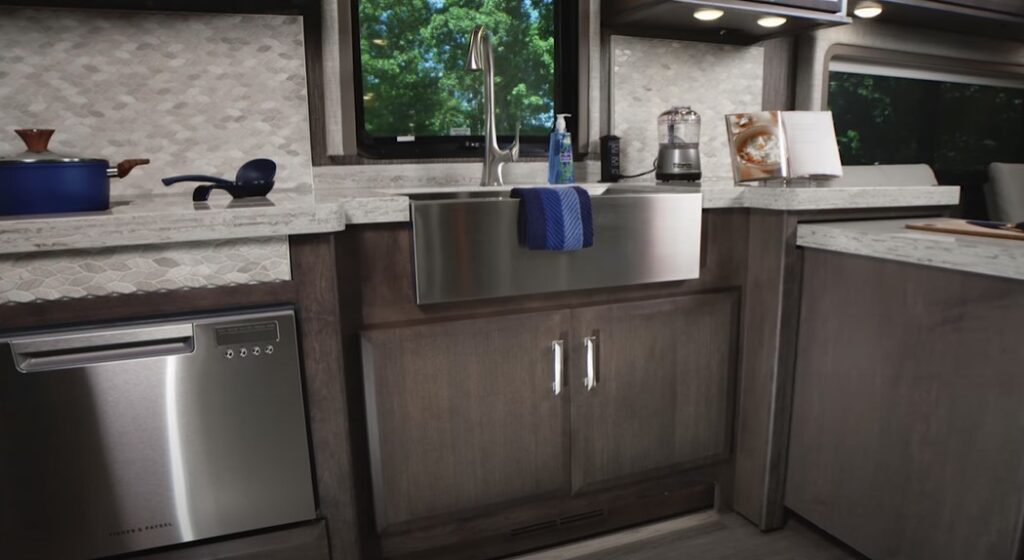 Kitchen
Along with a residential dishwasher. The kitchen is packed with other conveniences such as a pop-up lout. And pull out the pantry that locks into place when you're traveling. You'll appreciate the room in the cabinets below with drawers for all your cooking essentials.
Cooking and baking can be done in the convection microwave or on the dual burner electric induction cooktop… and when you don't want to be cooped up in the kitchen. Remove the covers, and take the entire cooktop outside with you.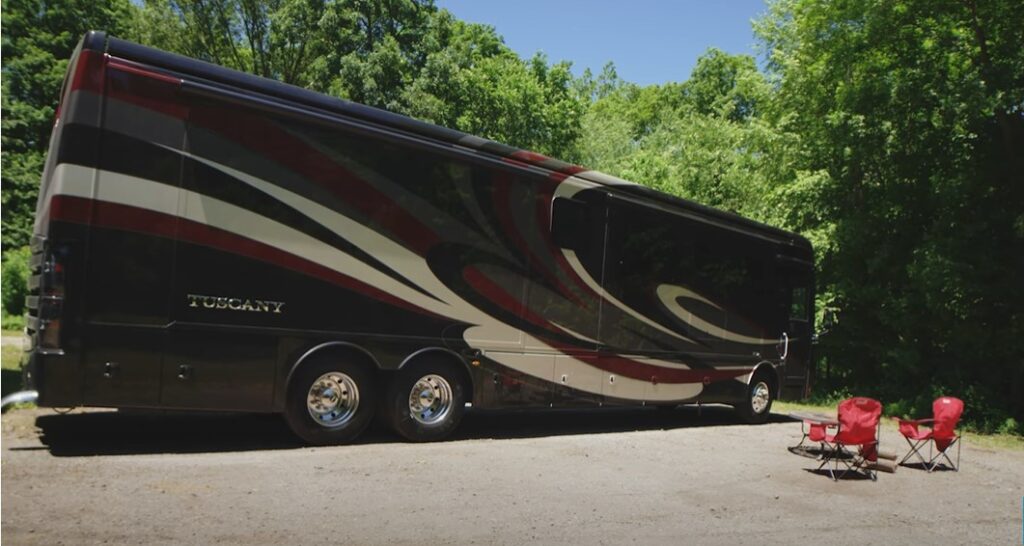 Exterior Design
On the exterior, the impeccable finish on the Tuscany offers five color schemes to choose from. Each painting style is meticulously sprayed by hand. Using top-tier, beautiful, long-lasting Sikkens paint.
The Tuscany shows off an impressive amount of storage down below. Open the side hinge compartment doors with gas pistons to reveal an impressive amount of storage. The heated basement also features new lightweight, stronger materials and you can load the sliding tray from either side.
Behind this door is the 50-amp Shoreline Power Cord on 12-volt Retractable Cord Reel In the wet bay, you find the E-Z Flow Water Panel with Whole-House Water Filtration system and water hose on a power reel.
Lift the hood to reveal the 10,000-watt diesel generator on the power slideout tray Mounted on top of the Dome fiberglass roof…. Three 15- thousand BTU low profile ducted air condition units – each with a heat pump.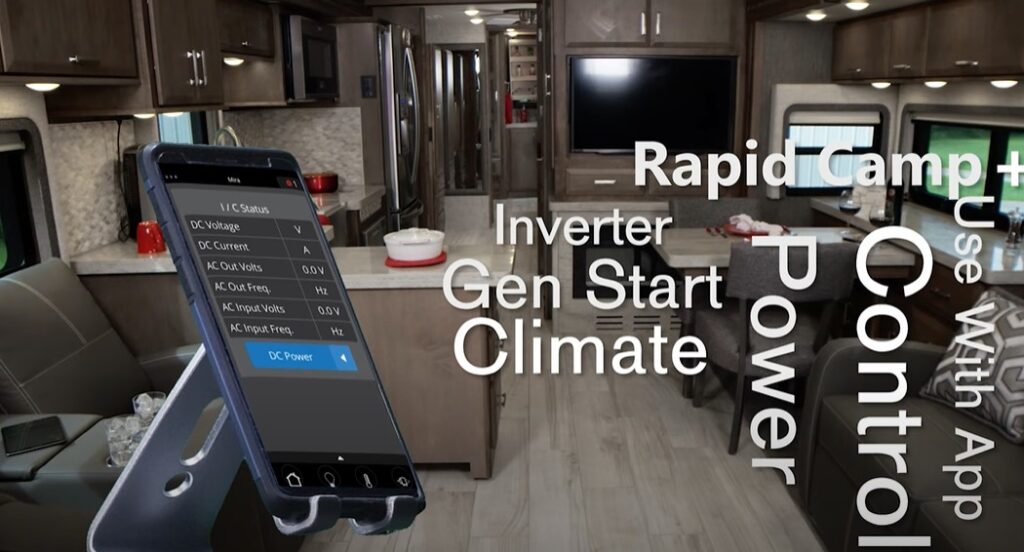 Air Condition System
All are tied to an AC Condensation Drainage System. So no drips when you walk outside. Open the Frameless dual pane windows to let in the fresh air. Adding to your ownership experience, Tuscany is backed by an industry-leading warranty….
You now have a 12 year structural, 6-year lamination, and 1-year limited warranty Heading up top… the Dual roof mounted Girad power patio awnings with LED lighting extend with the touch of a button providing shade or shelter.
A built-in motion sensor automatically retracts the awning in windy conditions to prevent damage The Tuscany driving experience is incomparable and it starts with the way it is handcrafted starting with a Freightliner XC-R Raised Rail Chassis.
The Tuscany is then made Always True Level and Strong – with the Atlas Foundation… ensuring a stronger house and a smoother ride. The Tuscany is powered by a Cummins ISL 8.9 liter with 450 hp and 1250 tq that works together with a 6 speed Allison transmission and features a 1000 watt in block engine heater.
RV Features
It comes to life with a push-button start. You have a 10,000-pound hitch on the 40RT and a 15, 000-pound hitch on the 45MX. Both feature a side radiator cooling package and you'll appreciate the convenience of having Dual fuel fills above the beltline… Uneven roads and navigating tight turns are made easy with Air ride suspension along with independent front suspension with a 60-degree wheel cut to help slow you down… you have a three-stage jake brake on the 45MX and an Exhaust brake on the 40RT.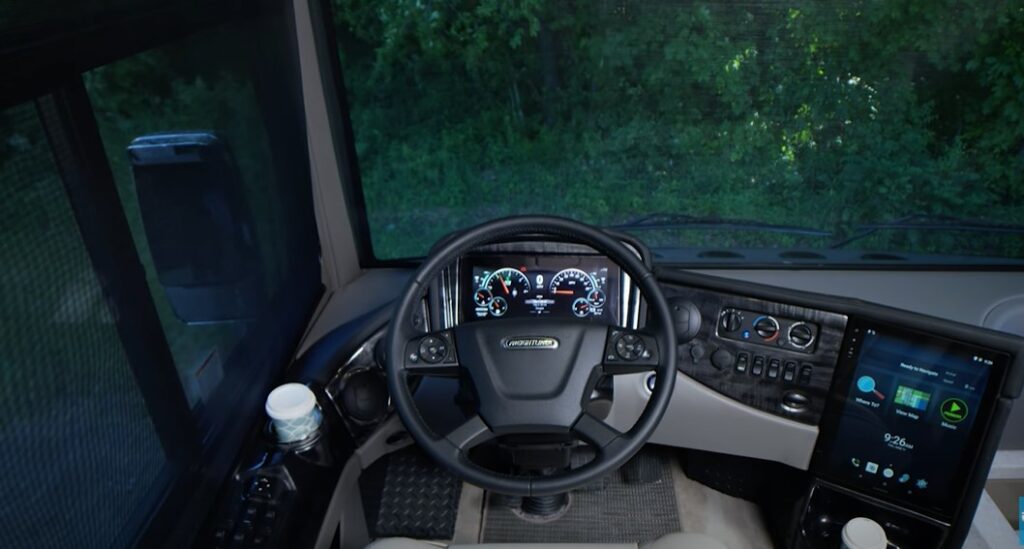 Driver's Seat
From the driver's seat, the 15-inch touchscreen is your new favorite tablet featuring features RV-specific Garmin navigation, Music from Sirius XM radio, and the ability to go hands-free with Bluetooth.
This beautiful screen is also the monitor for your backup and side-view camera. This Garmin Fusion USB port allows you to connect your phone. Right here are push buttons for the gen start, sunshade, nightshade, cargo bay locks, and map light.
Over here is the pad for the one-touch leveling jacks along with controls for your Chrome heated power mirrors with a side view camera – various lights inside and outside, dash fans, and air horn. You'll enjoy wrapping your hands around the VIP tilt and telescoping smart wheel with push-button controls for the Freightliner digital optiview dash with drive tech On the right, the easy to use stalk for your transmission driving modes and braking On the left, another for wipers, lights and turn signals You'll find Push-button controls for phone calls and cruise control Another pad allows you to access a thorough list of Tuscany data and set custom gauges.
Down below are an adjustable brake and gas pedal. Once you're on the road, a simple touch raises the solid surface entry steps with an electric step cover and you're ready to start your escape. This is the 2021 Tuscany from Thor Motor Coach.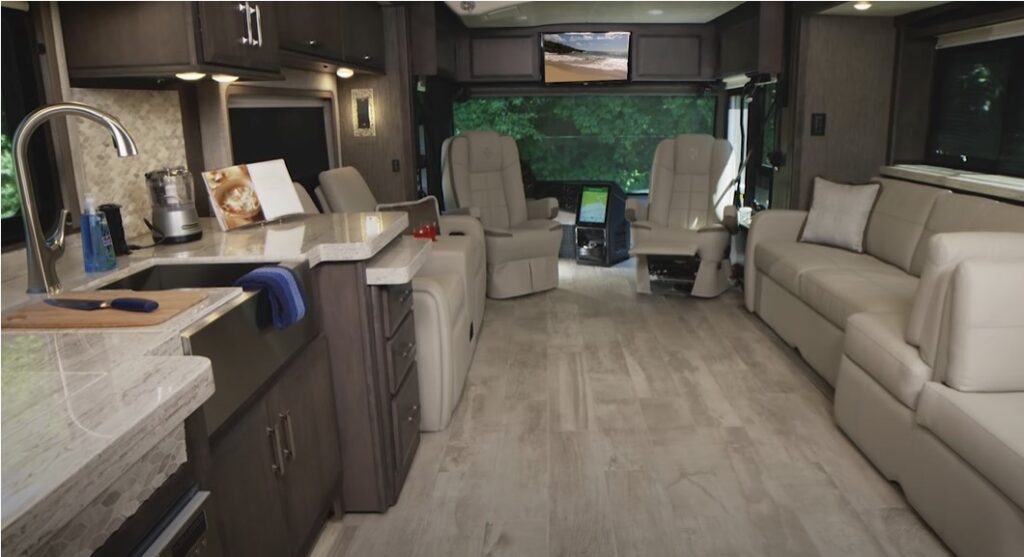 Find the Tuscany Floorplan made to fit you at Thor Motor Coach.com
Video Overview