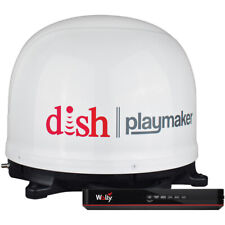 Price: 25999 USD
Winegard PL7000R DISH Playmaker Portable Auto Satellite Antenna & DISH Wally




Winegard PL7000R DISH Playmaker Portable Auto Satellite Antenna & DISH Wally
Features high-strength, military-grade aluminum reflector for improved signal strength
Sleek & compact design makes it easy to take with you wherever you go
Powered through DISH HD Solo receiver (required) at 120 VAC power source.
Ideal for DISH Pay-as-you-go programming or compatible with any current DISH subscription.
Fully-automatic – Automatically finds DISH satellite orbital locations
Equipped with 1 coax input
DISH Wally HD Receiver Included
Perfect for RV, camper, motorhome, cabin, fishing, hunting or tailgating
What's in the box?
Satellite Dish
DISH Wally HD Receiver with RF remote
Remote finder
Built-in apps
25′ RG6 Coax Cable
Handle
Documentation