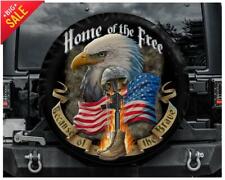 Price: 3399 USD
US Veteran Eagle Spare Tire Cover 32″ Car Accessories Home Of The Free Boots




U.S VETERAN EAGLE MILITARY BOOTS SPARE TIRE COVER WITHOUT HOLE CAMERA
Tire Cover not only protects your expensive spare tire but also has a great aesthetic. You can easily put your unique personality to refresh your vehicle. Our custom spare tire cover protects your car's spare tire against sun, rain, mud and other harsh weather elements.
INFORMATION
Multi-Function: The custom spare tire cover protects your cars spare tire against sun, rain, mud, and other harsh weather elements. 
Material: Windbreaker and waterproofing fabric. The fabric material is light, soft, water & dust resistant, strong wearability, easy to wipe-clean. 
Easy using: Spare Tire Cover is easy to fit on and remove. The string made by 100% polypropylene fiber is easy to change size to fit properly onto your cars spare tire.
HIGH QUALITY MATERIAL – Our spare tire cover is made of high quality polyester fabric. Durable, waterproof and dustproof. Easy to clean, you just need to wipe with a rag. Sunscreen and anti-corrosion, protect your jeep rv camper back spares from sun damage, dirt, rust, corrosion.
WIDE APPLICATION – Perfect for anycar
EASY INSTALLATION – Our wheel protector for trailers are easy to install and remove. No tools required. Elasticized back hem with quick-connect clips for a fast and adjustable fit. rv tire covers sizes are shown in the picture and also list on below detailed description.
MULTI-FUNCTION – Waterproof, strong wearability, wipe-clean with soft rag, non-scratch backing. Helps guard against sun, rain, mud and other elements. And strongly improves your vehicle appearance.

Size:




–

Diameter: 76.2 cm (30 inches)
– Diameter: 81.3 cm (32 inches)
– Diameter: 86.4 cm (34 inches)
 Please read the details of the product carefully before placing an order.
SHIPPING
Estimated Processing time: 3-5 business days.
Estimated shipping time in US: 10-12 business days.
2-6 Additional days due to pandemic.
REPLACEMENT/RETURN POLICY
If you are not completely satisfied with your purchase, we will implement to replace another within 30 days without fee if the item is defective, damaged, or an error is made on our end. We do our best to process as quickly as possible.
If for any reason you are unsatisfied with the item you buy, please contact us so that we can talk about the solution for you. If you send us the proof like an image, it is easier for us to handle your issue.
❤ If you have any other ideas you want to order, please contact us and we will be happy to design one for you without any additional charges. ❤