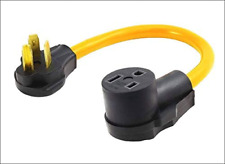 Price: 2829 USD
S7 plug adapter, 6-50 Welder Adapter 10-30 30A 3-Prong Dryer to 6-5020inch …




S7 plug adapter, 6-50 Welder Adapter 10-30 30A 3-Prong Dryer to 6-5020inch …
---
30AMP Dryer Male Plug to 50AMP Welder Female Socket, Safe and Solid PVC Molded Plug and receptacle
NEMA 10-30P 30AMP 250Vac Male connect to the Dryer Socket. Nema 6-50R 50AMP 250Vac Socket connect to your welder Nema 6-50P welding Plug
Heavy duty cord made of STW 10AWG 3Conducor, 100% copper wire inside, Support Max 30AMP current,
Cord length=52CMPlug and receptacle Blade Pin in Brass (Copper)
All the cord we are selling were 100% tested with open/short/hi-voltage etc.
Electrical Adapters
This flexible, welder adapter is a NEMA 10-30P to NEMA 6-50R.
NEMA 10-30P, 30 Amp, 125/250 Volt male plug

NEMA 6-50R, 50 Amp, 250 Volt female connector

Maximum operation power:7500 Watts
RV Electronics
With your 3-prong welder plug in hand, plug into the corresponding connector in the adapter.Dryer Outlet (NEMA 10-30R)
And then simply plug the welder adapter into your 3-prong dryer outlet!
| | | | | | |
| --- | --- | --- | --- | --- | --- |
| | Dryer Adapter Cord | Dryer Adapter | Welder Extension Cords | Welder Adapter | Power Inlet Box |