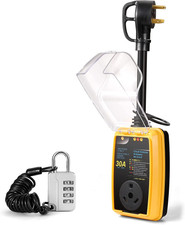 Price: 2531 USD
RV Surge Protector 30 Amp with Waterproof Cover Camper Surge Protect




1★:【Surge Protector】 3-Stage complementary surge protection circuit consisting of TVS, MOV (Metal Oxide Varistor), and GDT (Gas Discharge Tube) with 2100J energy absorption capacity to protect your RV electronics from dangerous high and low voltages and surges, ensuring your RV is safe!
2★:【Circuit Analysis Indicator】The Surge Protector comes with a circuit analysis indicator to tell you if the power supply to your caravan is safe. The indicators identify wiring problems, reverse polarity faults, open neutral, thermal open, reverse thermal/earth and other problems in advance so you can deal with them in time to reduce damage.
3★:【Ultra-long Standby】The IP65 rated surge protector comes with a waterproof cover to protect the circuit from rain, wind and sand storms. The waterproof cover has an opening of 1.57inch*2.36inch which is large enough to allow the waterproof box to be closed after most caravan plugs have been inserted.
4★:【Plug and Play】 The plug handle is ergonomically designed for easy insertion and removal, and you need to make sure the LED lights are on properly when using it.
5★:【Extended Warranty】: FlyGeneral is a trusted brand that always puts the "customer first", our products have a warranty cycle of up to 1 year, if you have any product problems, please feel free to contact us via Amazon message, our after-sales team will always provide a prompt response and solve your problem until you are satisfied.