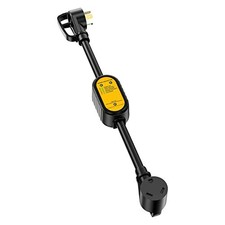 Price: 4134 USD
RV Surge Protector 30 Amp Circuit Analyzer with LED Indicator Light RV Power …




We offer Free Shipping on all order!!
Welcome to my stores, The Smart of your choice and satisfaction guarantee.
RV Surge Protector 30 Amp Circuit Analyzer with LED Indicator Light RV Power …

Product Description
✅【2100 Joules Surge Protection】:2100 Joules of surge protector. A surge protector will keep power spikes from coming into the RV and killing your electrical system. Surge protector is must have for rv trailer camper motorhome, so as to prevent costly mishaps.
✅【Circuit Analyzer with LED Indicator Lights】: Provides fault indication when you connect the wire to the power base, let you know if your 30amp connection is safe to use. LED indicator lights are easy to read, there is a chart attached to the body of the plug to show the different faults.The peace of mind that the correct electric power is entering the RV.
✅【Waterproof Surge Protector for RV】: IP65 rating Waterproof, Rugged outdoors rain proof designed, no more worries about rain or any water splash; designed for outdoor use.
✅【30 Amp Male to 30 Amp Female 】: UL List Plug, Made of 100% copper wire with good conductivity, it can withstand the maximum load of 30A/125V/3750W.
✅【Easy to Use Handles】: Easy to install, handle design, plug and play. you could easily Plug and Pull Out the 30 amp plug from Electrical Box.

Product Specification:Operating Current : 30 Amps Operating Voltage : 125 Volts Maximum Watls :  3750 Watts Energy Dissipation : 2100 Joules Waterproof: IP65 Rating WaterproofPower lndicator Lights: 2 LEDSReverse Potarity Indication: Yes Voltage On Ground Indication: Yes Surge Protection Indication: Yes Corrosion Resistant: YesEasy Installation: YesWhy you need a surge protector ?With the always lingering possibility of a surge or power issue it is reassuring to have a surge protector. Must have for RV camper: These surge protectorare not a luxury, but an absolute necessary item to keep your rv safe. Simple plug and play, It keep your camper's electrical system safe that allowed you to plug in with more confidence.Protect Your RV from Damage: A surge protector is a critical and easy way to protect your RV's electrical system from damaging power surges. The different lighting combinations will alert you of any electrical issues, protect your campers from power surges.Adds a feeling of protection to electric safety when traveling to rv parks:  Used to protect your RV from electrical disturbances. It's a must have for anyone staying at an RV park. RV power confidence : To put your mind at ease while out traveling, have a surge protector so as to prevent costly mishaps, Surge protection is really necessary/ RV electronics insurance Easy To Use: Simply plug the device into the power base to check the power quality, and then plug in the power cord. (This surge protector AMP Rating is 30AMP ; Joules Rating is 2100 joules .The wrong choice may lead to product damage, please check your rv model before purchase. )
Payment Policy
– Payment managed by eBay.
Shipping Policy
– We do not ship to a different address. we will ship to the address you provide on the ebay only. Please check your address before purchase.
– Items are dispatched within 24 hours (except weekends and holidays) and shipped from US.
– It should take 2-4 business days for the product to reach your destination (Saturday and Sunday excluded).
– We use a selection of shipping services such as UPS, FedEx, USPS etc.
– We ship only to the 48 contiguous states of America. We do not ship to Hawaii, Porto Rico, Alaska, US Protectorates, APO/FPO addresses and PO Boxes. Local pickups are not offered.
– If it takes any longer than that, please do not hesitate to contact us to resolve the issues.
Returns Policy
– This product comes with 30-Days Money Back Guarantee.
– If you receive an item and it doesn't work properly or you don't like it because of any reason at all,
– We have a 100% refund/return policy. We will ship you a new item or refund your money for the full sale amount.
– For all returned products, buyers MUST contact us for the returning address.