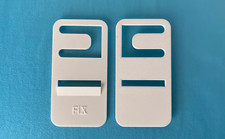 Price: 999 USD
Refrigerator Door Airing Card (pair) for Dometic SINGLE DOOR models




This is the one-and-only iFiXiFi Airing Card for Dometic Single Door Models!
Ever come back to your home away from home (i.e. your RV, camper, travel trailer, motorhome or "caravan") to find your Dometic refrigerator freezer a musty, mildew-y nose-nightmare because the door wasn't left cracked to let it air out?
Yeah, us too!
Our iFiXiFi RV refrigerator / freezer airing cards can save your food, your fridge, and your vacation!
You can put on and take off the iFiXiFi airing card in seconds. When you're ready to store your fridge / freezer, just slide it on the door latch and gently close the door. The airing card latches in place, securely holding your fridge or freezer door in just the right position to let it air, without the door moving or getting in your way. Ready to hit the road? Just unlatch the airing card and slide it off the door.
This Refrigerator / Freezer airing card fits many Dometic SINGLE DOOR refrigerator freezer models (the ones with the inner freezer door that flips down).
This offer is for a PAIR of cards, so you can use one and keep the other as a spare… or spread the love and give it to another happy camper!
You can see a demonstration of how this airing card works and see if your Dometic is compatible by looking at our YouTube video >>>here.
Your choice of colors!