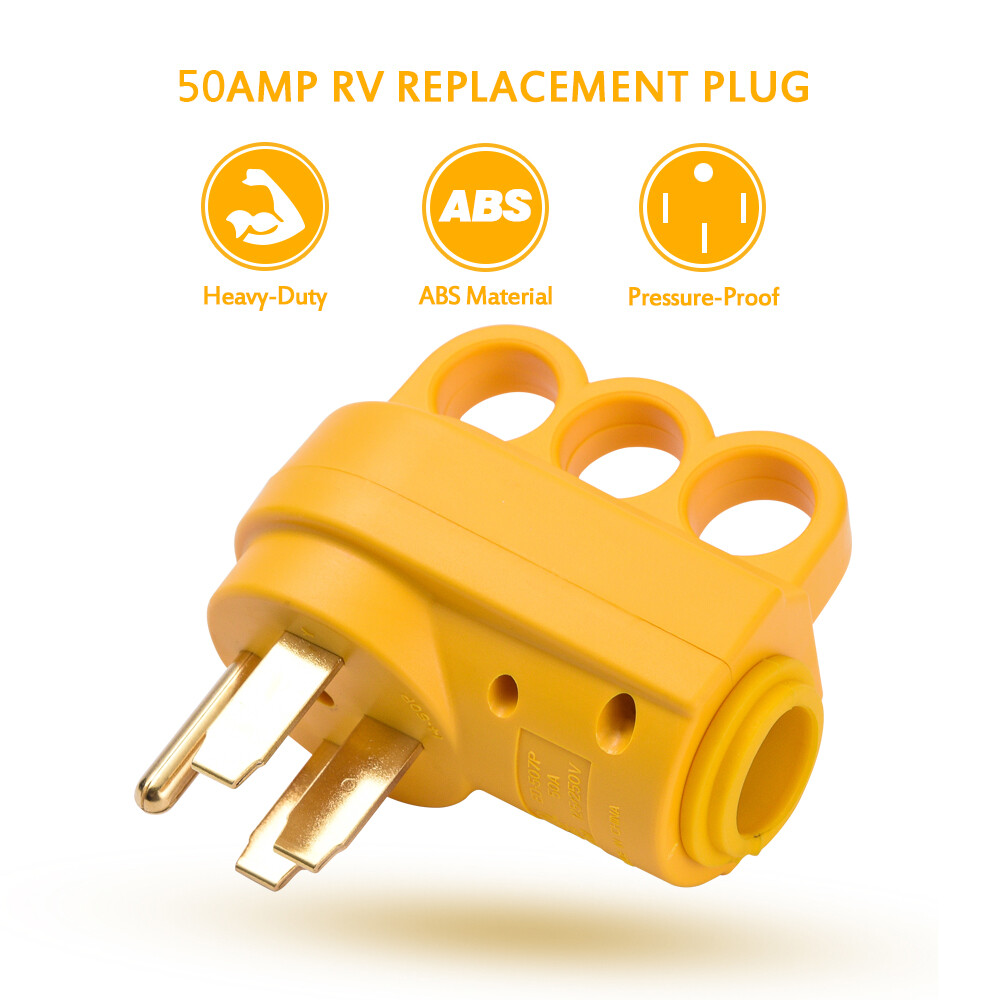 Price: 1618 USD
MICTUNING 50 Amp RV Replacement Plug 125/250 Volt Male Power Adapter Handle Grip
MICTUNING 50 Amp RV Replacement Plug 125/250 Volt Male Power Adapter Handle Grip
Features
√ SUPER HEAVY DUTY – Rated at 125/250V 50A male plug, suitable for connection of 6AWG/3C+8AWG/1C RV cord, perfect replacement for the old or worn out plug of RV, Camper, Caravan, Motorhome, etc
√ SOILID RV PLUG – Adopts well-conductive copper pin and flame retardant ABS plastic housing, with strain relief clip and bushing to fix the cord, more stable and safer wire connection!
√ EFFORT SAVING GRIP HANDLE – Design of ergonomic grip handle on the back, makes it easier to plug-in and unplug, better saving physical strength!
√ EASY REPLACEMENT – Come with a clear and easy-enough instructions for simple installation, even if a green hand can do it well within minutes!
√ WHAT YOU'LL GET – 1x 50Amp RV Plug, 1x Instructions, plus MICTUNING 100% Satisfaction Customer Services, please feel free to contact us if there's any issue.
---
Money Saving, Easily Replace the Old Plug
It saves your money from replacing the entire supply cord and makes it easy to repair the issues that will eventually occur with the molded plug.
Easy to disassemble the old unit and re-do the connection or tighten up the clamping on a female receptacle are real pluses.
Like any add-on plug, it's not waterproof and you will need to keep it out of puddles and rain.
Be sure to read the instructions first! It will save you a lot of frustration.
Specification
Rated: 125/250V 50A
Cord Type: S, SO, SOO, ST, STO, STOO, SOW, SOOW, STW, STOW, STOOW
Suitable Cord Size: 6AWG/3C + 8AWG/1C
Material: durable ABS + Copper
Application: RV, Camper, Caravan, Motorhome, etc
Package Included:
1 x 50A RV Replacement Male Plug
1 x Instructions