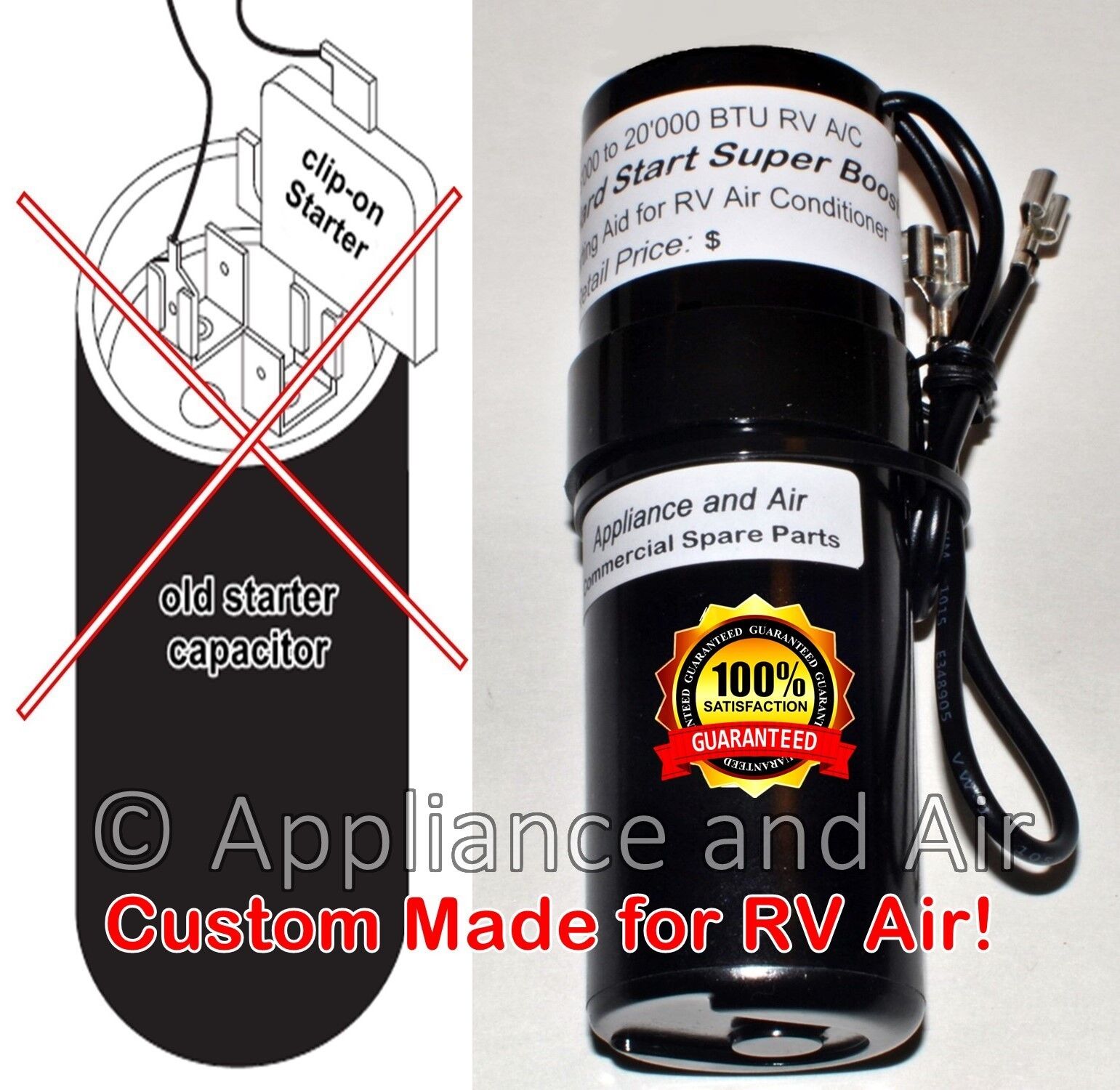 Price: 3195 USD
Dometic Duo-Therm Brisk Air Hard Start Capacitor 3310727.007 /.015, 3311883.000




Exclusive & FREE – Tips, Instructions, Troubleshooting Guide and a neat bag with Hardware INCLUDED with your purchase!  Courtesy of Appliance and Air copyright ©. Replaces 9333A9021, 8333A9021, 3310727.007,  3310727.015
Our Super-Boost is a CUSTOM MADE solid-state start relay / hard-start capacitor – made exclusive for Appliance and Air RV-Parts.
No loose parts or complicated wiring, start capacitor and PTC relay are wired together inside the sealed housing – easy DIY job – no electrician required…
Simply clip it on and attach the two wires to your run capacitor as shown in the included instructions.
Don't do it…  Hard start kits for Home Air conditioning are made for a HOME A/C, rated at about 60'000+ BTU. This oversized Hard Start might kill your RV A/C compressor because your RV unit is much SMALLER  (less than 15'000 BTU)!
Tips and Tricks to get your A/C running:   Discover various insider Tips and Tricks to keep your RV A/C working – FREE, included with your purchase (© ApplianceandAir)
The secret world of Capacitors and Hard Start:  A useful introduction to the most important parts in your Air Conditioning unit – FREE, included with your purchase (© ApplianceandAir)
Is your A/C compressor gone…?  Read our easy to understand instructions about how to test your A/C – FREE,  included with your purchase (© ApplianceandAir)
Basic Wiring Diagrams for your Roof-top A/C:   Wiring diagrams for your A/C – exclusive drawings for our e-bay customers –  FREE, included with your purchase (© ApplianceandAir)
A must-have for the devoted RV – Enthusiast!
Don't fool around complicated wiring, drilling holes, difficult installations…
And.. don't kill your Air conditioner with an incompatible hard start capacitor…
Our custom made Hard start Capacitor fits ALL RV Camper Air conditioning Models!
Please let me know if you have any questions. This is what I am here for; many suppliers do not even know what they are selling…
I am proud of being able to help you!
I only sell commercial quality parts – guaranteed to be brand-new – at a very affordable price…
Do you need an introduction to how an RV A/C Hard Start and Run-Capacitor works and how to check it?
I'll attach 5 trouble-shooting instructions & Tips and Tricks (easy to understand)!
 (Courtesy of Appliance and Air copyright © 1996 – 2021)
And…  you will receive a little present – just in case you need some hardware…
(After over 40 Years of repair-service – I may know what you're looking for…)
A must have for the organized Service Tech!
Don't run back to the warehouse supplier and waste your time and money…




Each item is individually packed including a label with description…
just enter YOUR sales price in the empty spot and you are ready for business!




FREE Shipping – SHIPS TODAY with USPS First Class Mail, including Tracking/Delivery Confirmation via
e-mail!
Orders before 2 PM Eastern Time (EST). Delivery in just 2-3 days (usually).
Please
make sure you are purchasing the correct item!
Do not purchase this electric part as a diagnostic tool and
expect to return it
if it doesn't fix the problem with your machine.
No returns on electrical items.
Buyer pays return shipping. Initial shipping charges to the buyer will be
deducted from the refund.
You'll get a guaranteed 100% NEW and perfect working item, not a
used part that others had in their hands…
Terms And Conditions: Pay securely with Pay-Pal  or any major credit card! 
We appreciate and thank you for your business.  Have a
blessed and beautiful day! Appliance and Air©.