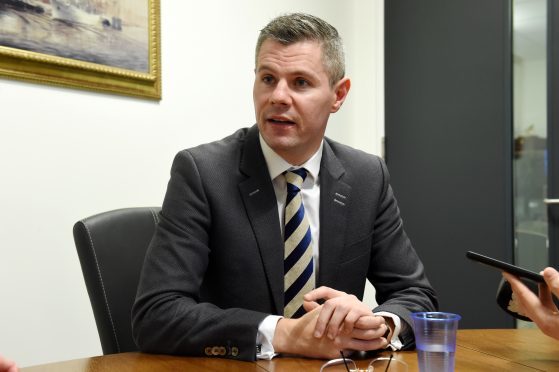 Scottish Government Finance Secretary Derek Mackay
Aberdeen City Council chiefs have said they are "working towards a solution" with the Scottish Government to try to avert a potentially crippling rise in business rates.
Controversial changes to the rateable value (RV) of local authority properties could cost the council more than £1million.
Local authority leader Jenny Laing yesterday held talks with Finance Secretary Derek Mackay, asking for transitional relief on the rates rise.
Businesses across the north-east have heavily criticised the proposed changes – which would mean the RV of some firms' premises rising by as much as 200%.
And public buildings in the Granite City will also be affected, with RV predicted to increase on Marischal College by £121,000.
It has also emerged NHS Grampian could be hit, with the north-east's flagship hospital, Aberdeen Royal Infirmary, potentially having its RV increased from £6,300,00 to £6,930,000 – a rise of £630,000.
Mr Mackay ruled out direct government intervention after a showdown with business chiefs in Aberdeen on Friday.
But last night Councillor Laing said she hoped the minister may have a change of heart.
She said: "If we are to find a local solution for businesses then the Scottish Government must work with us and be prepared to provide financial assistance towards its implementation.
"I made it very clear to the cabinet secretary that as Aberdeen is the lowest funded council in Scotland the additional burden of helping businesses who are suffering from the increase in business rates cannot lie solely with the council, however, given the gravity of this situation it is imperative that we work collectively to find a solution."
A spokeswoman for NHS Grampian said: "Given the greater increases than predicted, we are currently working with the Scottish Assessor Association to explore how we can mitigate the impact.
"If we are unable to find a way of doing so then we explore our options going forward, which may include an appeal."
Ross Thomson, Conservative MSP for the north-east, said: "Once again, the north-east is being squeezed for every penny by a Central Belt-focused SNP government."
James Bream, research and policy director for Aberdeen and Grampian Chamber of Commerce said: "While we are not party to these specific discussions it is good that initial steps have been quickly taken, as a genuinely collaborative and joined-up approach is required to ensure we find a practical solution for the entire north-east, which offers new money to address the issue."
Register for our free newsletter