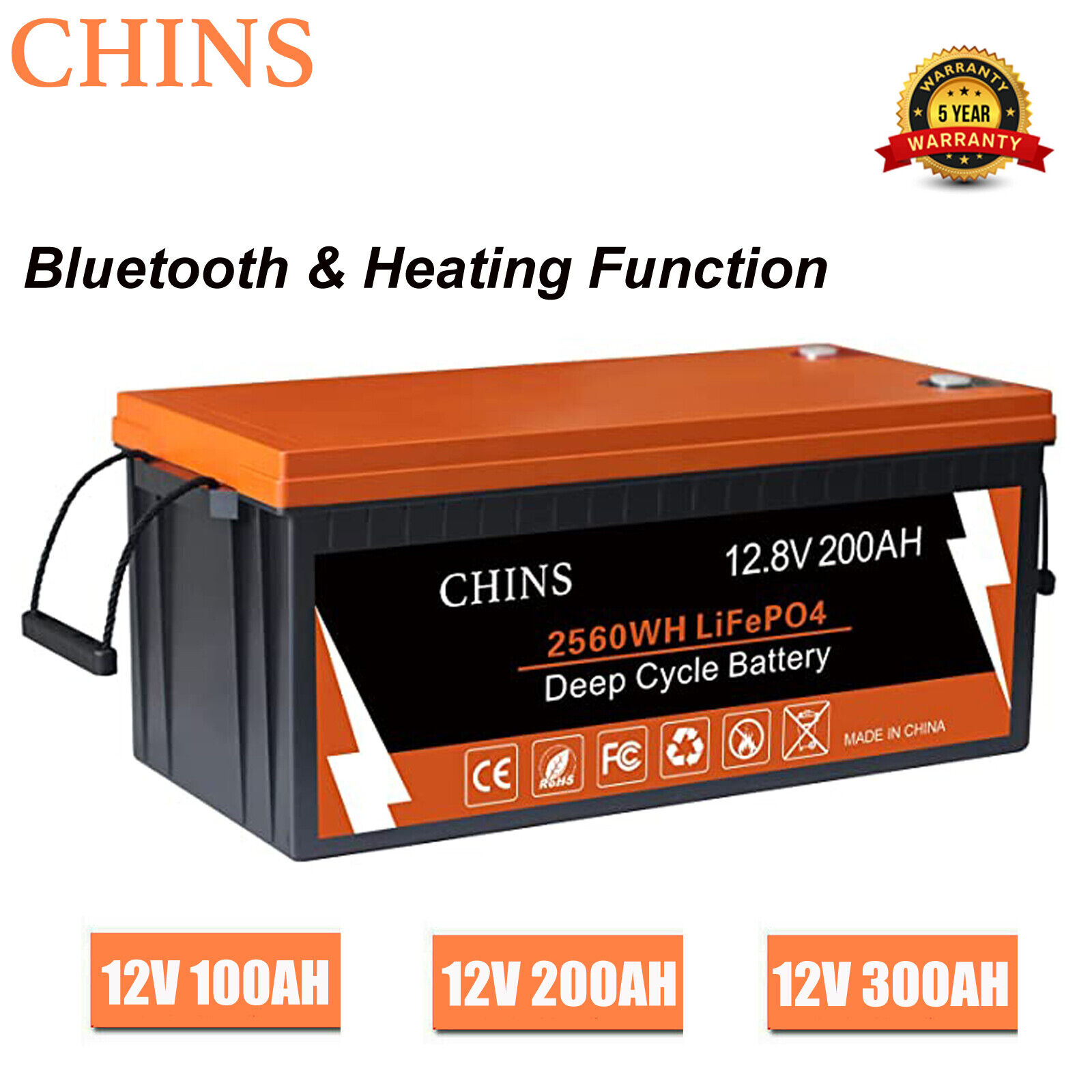 Price: 54899 USD
CHINS LiFePO4 Battery Smart 12V 100AH 200AH 300AH W/Bluetooth & Heating Function




CHINS LiFePO4 Battery Smart 12V 100AH 200AH 300AH W/Bluetooth & Heating Function

Description:
[Lithium Iron Technology]: CHINS Bluetooth lithium ion battery have exceptional longevity since they manufacturing by Automotive Grade LiFePO4 Cells with higher energy density, more stable performance & greater power, letting you use the battery more freely. Our batteries are more cost effective, so when factoring time and cost into your purchase, our lithium ion battery banks come out ahead every time. It can support fast charging and solar panel charging.
[Bluetooth & Heating Function]: Compared with the traditional battery monitor, CHINS Bluetooth lithium battery has added Bluetooth function and obtain various data (SOC) of the lithium iron phosphate battery. Customers can connect to the battery through the mobile phone APP, and read the battery voltage, current, battery capacity and other important information at any time. Wireless connection range: within 5-10 meters from the battery. Heating Function: Only when Smart battery starts to charge, the heating function inside the battery can be turned on. When the ambient temperature is lower than 32°F (0°C), the charging current will only supply power to the heating film inside the battery. When the internal temperature of the battery reaches 50°F (10°C), BMS will immediately turn off the heating function, all the charging current charges the battery. The charging current of the low temperature heating battery is at least 10A.
[Capacity Expansion]: CHINS LiFePO4 battery can be connected in parallels and in series for larger capacity and voltage. Max connection in series: Up to 4 identical batteries for up to 48V connecting in series. Connection in parallels: it can connect multiple batteries, suggest no more than 4pcs in parallel. Allow to be extended up to 4 in series and 4 in parallel (Max 4S4P) to get more capacity (Max 400Ah) and higher voltage (24V, 36V, 48V).
[Built-In BMS & Convenience & Maintenance Free]: CHINS Bluetooth LiFePO4 battery has built-in BMS (Battery Management System) to protect it from overcharge, over-discharge, over-current, and short circuit with excellent self-discharge rate. Built-in high temp cut off prevents charging over 122 °F (50 °C).
[Wide Application]: Our CHINS lithium iron phosphate battery can be used in the following areas: Motorhome/RV & camper, Houseboat, Travel Trailer, Dump Trailer, Home energy storage system, UPS backup, lighting, digital/CCTV cameras, portable TV, e-Robot, electric vehicles,  etc.
Specification:
Smart 12V 100AH LiFePO4 Battery
Nominal Voltage: 12.8V
          Charge Voltage: 14.2V – 14.6V
 Battery Capacity: 100AH
Battery Power: 1280WH
    Max.continuous charge/discharge current: 100A/100A
Charge Temperature: -20°C to 50°C(-4°F to 122°F)
    Discharge Temperature: -20°C to 60°C(-4°F to 140°F)
 Storage Temperature: -10°C to 50°C(14°F to 122°F)
Battery Size: 329*172*214mm/12.95*6.77*8.42inch
Battery Weight: 11kg/24.2lbs
Smart 12V 200AH LiFePO4 Battery
Nominal Voltage: 12.8V
          Charge Voltage: 14.2V – 14.6V
 Battery Capacity: 200AH
Battery Power: 2560WH
     Max.continuous charge/discharge current: 100A/100A
Charge Temperature: -20°C to 50°C(-4°F to 122°F)
    Discharge Temperature: -20°C to 60°C(-4°F to 140°F)
 Storage Temperature: -10°C to 50°C(14°F to 122°F)
Battery Size: 522*240*218mm/20.55*9.44*8.58inch
Battery Weight: 22.4kg/49.4lbs
Smart 12V 300AH LiFePO4 Battery
Nominal Voltage: 12.8V
           Charge Voltage: 14.2V – 14.6V
 Battery Capacity: 300AH
Battery Power: 3840WH
     Max.continuous charge/discharge current: 100A/100A
 Charge Temperature: -20°C to 50°C(-4°F to 122°F)
     Discharge Temperature: -20°C to 60°C(-4°F to 140°F)
  Storage Temperature: -10°C to 50°C(14°F to 122°F)
   Battery Size: 520*269*220mm/20.47*10.59*8.66inch
Battery Weight: 30kg/68lbs
12.8v 100ah
12.8v 200ah plus
12.8v 300ah
25.6v 200ah
Smart 12V 100AH
Smart 12V 200AH

Nominal Voltage

12.8V

12.8V

12.8V

25.6V

12.8V

12.8V

Charge Voltage

14.2~14.6V

14.2~14.6V


14.2~14.6V

28.4~29.2V

14.2~14.6V

14.2~14.6V

Energy

1280WH

2560WH

3840WH

5120WH

1280WH

2560WH

BMS Board

100A

200A

200A

200A

100A

100A

Max continuous discharge current

100A

200A

200A

200A

100A

100A

Max charge current

100A

200A

200A

200A

100A

100A

Peak discharge current(Duration: less than 5 seconds)

300A

600A

600A

600A

300A

300A

Max Load / Inverter Power

1280W

2560W

2560W

5120WH

1280W

1280W

Recommend Solar Panel Configuration (Fully charges with effective sunshine 4.5h/day)

300W

600W

900W

1200W

300W

600W

Wire(s) for Series & Parallel Connection / Loading

4 AWG

2 AWG

2 AWG

2 AWG

4 AWG

4 AWG
Package Included:
1*Smart LiFePO4 Battery
1*Product Manual
1*Warranty Card