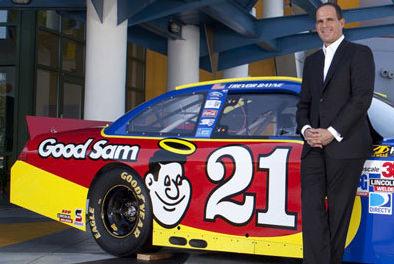 "We're going to just stick to our plan. And we're not going to deviate for anybody or anything because we know that we're going to make more money this year than we made last year. And the last time I checked, that was actually a good thing." – Camping World CEO Marcus Lemonis
According to the Recreational Vehicle Industry Association (the "RVIA"), the 2017 retail value of the RV industry is $20 billion. Since 1997, the industry has grown at a compounded rate of 5.5%. Since 2007, a ten-year period, the RV industry has grown at a 3.3% per year clip. Change the year to 2010, the first year the industry saw growth since the financial crisis, and the number jumps to over 12.6%. The demographics for RV ownership are also shifting in a way that will foster future growth. RV sales were up over 15 percent last year, and the trends are tending towards both retiring baby boomers longing for a lifetime adventure, and up-start millennials craving more scenic gallivanting with less settling down.
That brings us to a battered-but-not-beaten Camping World Holdings (CWH), a stock that at the beginning of the year traded near all-time highs of $48, but then proceeded to shave over 60% of its value in just two quarters. While in the short term CWH has a gloomy outlook, over the long term the company should demonstrate both business growth and share price appreciation. There are four parts to the thesis that show us why. First, while investors are not wholly convinced that CEO Marcus Lemonis can run the show – both figuratively and literally – with CWH and his more well-known TV venture, The Profit, management will be able to execute on a growth strategy through acquisition, vertical integration, and the Good Sam subscription service. Second, even though tariffs have dampened the RV outlook as a whole, and accounting concerns at CWH have magnified poor performance, these are surmountable speed bumps on the road to long-term profitability. Third, despite the Gander Mountain acquisition hindering earnings guidance, management is just now cracking the shell of its potential to expand the company's reach. Finally, while there are good businesses out there like Winnebago (WGO) and Thor Industries (THO), it turns out that CWH – despite near-term execution concerns – carries the best competitive growth prospects for the price. All told, Camping World is a durable business that can achieve secular growth, with the advantage of being the largest RV dealership in the nation.
Background
Camping World operates 147 retail locations (of which 132 sell new and used RVs), 54 Gander Outdoors locations, two Overton's locations, two TheHouse.com locations, two W82 locations, and five Uncle Dan's locations, making it arguably the largest RV dealership network in the country. While Thor industries and Winnebago are focused largely on the manufacturing and sale of RVs, CWH seeks to provide not just sales but also services, protection plans, products, and resources to the RV customer through its Camping World and related stores, and its Good Sam subscription service.
In May 2017, the company acquired Gander Mountain and Overton's, businesses that serviced hunting, camping, fishing, shooting, and outdoor enthusiasts, for approximately $390 million. At the time, Gander was attempting to close 32 failing stores and sell itself, but once Camping World obtained the winning bid, although it was only obligated to run 17 stores, Mr. Lemonis decided to open 70 rebranded stores by working out deals with corresponding landlords. This act in itself represents a bold yet savvy move by the CEO to jump on undervalued properties in need of a makeover.
In August 2017, CWH acquired Active Sports, Inc. with its online site TheHouse.com, in order to expand into bikes, sailboards, skateboards, wakeboards, snowboards, and outdoor gear. CWH subsequently followed up by purchasing W82 and Uncle Dan's Outfitters in September 2017 and October 2017, respectively. Furthermore, the company bought Erehwon and Rock Creek Outfitters in January 2018 and April 2018. It is a long list of acquisitions, and speaks to the diversification Mr. Lemonis et al. are going for with their Camping World universe. They have expanded from RVs all the way to rock climbing and kayaking.
After an opportune IPO in October 2016 (at $22/share) that raised $250 million, CWH escalated on a sales pitch of secular growth, led by CEO Marcus Lemonis' step from out of the spotlight and into the pubic markets. Although at first everything seemed rosy, it turns out that while Mr. Lemonis does pretty well in front of the camera, there's a steep learning curve when he's beholden to the investor: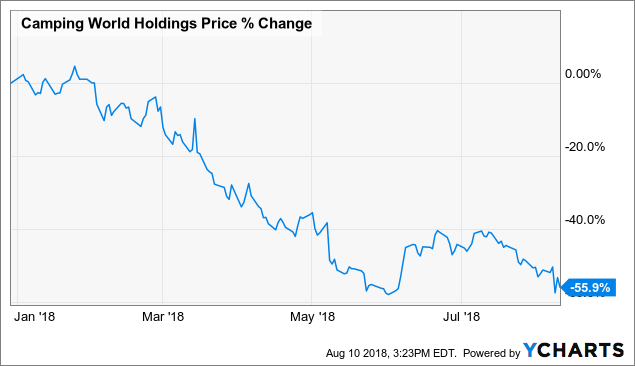 CWH data by YCharts
There are three reasons why CWH prices have plummeted over the past six months: the Gander acquisition, accounting concerns leading to an untimely annual filing, and steel/aluminum tariffs facing the entire sector. Each has contributed to the decline in share price. But to the contrary, each obstacle will contribute to the investment thesis, as we flip the challenges into a turnaround for CWH.
Management
After the Gander acquisition, management set out to re-open ~70 of its defunct stores, but due to the sheer size of the transformation, Mr. Lemonis scaled back in order to get things right:
We pushed out the cadence because we wanted to get it right the first time and we also encountered – I'll tell you Tim I think what happened that I underestimated. And when I visited the distribution center in Lebanon, I probably have never experienced anything like it. When you take 600,000 square feet of an empty distribution center and you try to add hundreds of thousands of new SKUs and hundreds and thousands of new vendors and you literally move all that product in on a brand new operating system that you never used before and then you have to move all that product out, it was kind of a giant shit show.
Well, at least he's being honest. At any rate, in the second quarter, the company sported year-over-year increases of 13%, 11.7%, 6.5%, and 9.2% in revenues, gross profit, new & used RV sales, and Good Sam membership – all spectacular numbers. However, net income decreased over 22%, to $81 million, and management lowered their 2018 EBITDA guidance to ~$375 million (down from $436 million) while simultaneously raising revenue guidance from $4.9 billion to ~$5 billion. Taking a bird's eye view, it's easy to see that the Gander transformation has resulted in more revenues, but also more cash burn. As a result, investors saw reason enough to send CWH down over 13% after the earnings release. But even though there will be short-term gains, losses, and tribulations, management has their eyes on the horizon, keeping a long-term perspective. Here is the CEO on the Q2 call:
Look it has taken us 15 years to build the RV business into where it stands today, at the end of the quarter with 132 dealership locations and we believe the investments we are making in our people and our infrastructure have positioned us to double the number of RV dealership locations over the next five years […] Although the investment will be higher than anticipated this year due to our pacing of store openings and RV dealership integrations, we feel very confident in the return on our investment when the stores and dealerships are fully ramped and mature.
There are investors and analysts out there that may not like Mr. Lemonis' alternative pursuits seen through his show The Profit. The concern is understandable: A CEO running multiple projects may not be a worthy companion to shareholders. But on the contrary, I see Mr. Lemonis' commentary as a clear signal regarding his focus on Camping World, his motivation to grow the business, and his trust in the management team. To put things in perspective, per the most recent proxy statement, Marcus owns 49% of CWH (52% of the combined voting power), putting his stake in the business at about $900 million. It is a literal symbol of his devotion to Camping World, and there is reason to believe solid execution will follow.
External Forces
Outside of the Gander Mountain transition that will reap the rewards of having a good CEO and management team, there were external forces that pressured CWH prices, in the form of steel and aluminum tariffs amidst a global trade war, and the company's inability to file its 10-K on time. Regarding the former, the acquisition and expansions mentioned earlier into camping and recreation as well as RV locations will prove to negate any outside tariff concerns due to the vertical growth strategy employed. Below is a sample from the latest annual report:
While we have traditionally focused on the RV-centric outdoor enthusiast, we believe there is significant opportunity for us to offer our comprehensive portfolio of services, protection plans, products and resources beyond the traditional RV enthusiasts to a broader group of outdoor and active sports enthusiasts who enjoy hunting, fishing, boating, non-RV camping, biking, snow skiing, snowboarding, sailboarding, skateboarding and other outdoor active sports and activities" (2017 10-K pg. 10)
RV sales are certainly a big piece of the revenue pie, but management's extension into other verticals speaks to an overarching theme of secular growth, and a desire to link the organic revenues with services related to Good Sam. Although there is intense competition from Winnebago, Thor, and others on the RV side, as well as REI, Bass Pro shops, Amazon (AMZN), Target (TGT), and Walmart (WMT) on the retail side, the connection between RVs and retail can serve as a durable advantage for Camping World, and one that can certainly be considered outside the trade war periphery. In short, Camping World has the "Buy American" charm necessary for surviving macro calamity.
Regarding the latter outside force – an inability to file the annual report on time – it is an accounting concern that was quickly rectified by the CEO. Last May, Ernst & Young was dismissed and replaced by Deloitte, possibly due in part to the untimely filing and a misrepresented share count. Below are two snapshots from the 2016 and 2017 annual reports (in $/share and in thousands):
2016:

And 2017:

Notice that the below 2017 diluted share count was reduced by some 57 million shares – not exactly the best record keeping efforts, and a source for confusion. But regardless of whether or not it was an accounting error or the effect of several different partnership interests (Mr. Lemonis owns "ML Acquisition Company, LLC" and "ML RV Group", two prominent entities mentioned in company reports), there was an inopportune missed filing that no doubt added to investors' concerns. By rectifying the errors and moving on, CWH should have a smoother process that enables more clarity.
Time & Value
Now that the management and outside encumbrances have been discussed, we are left with the time & value of the opportunity. Obviously, because of the Gander Mountain transition, downtrodden guidance, and secondary red flags, the investment will take time to coalesce. We know that management is planning a five-year growth strategy, and because the earnings will not turn around until 2019, it wouldn't be out of the ordinary to take a long-term view on CWH, perhaps one to five years.
For those interested in waiting, what's left is relative valuation. For this, we will rely on Winnebago and Thor Industries to make comparisons, two major RV manufacturer/dealers that dominate the industry. Presented below are select statistics from each of the three companies' 2017 financials, including cash, short- & long-term debt, price, market cap, and EBITDA. Let Enterprise Value be defined as:

Where debt is the sum of short- and long-term arrears. Note that none of the companies have any issued preferred shares, so it is excluded from the calculation of EV. Here is the table of 2017 financials: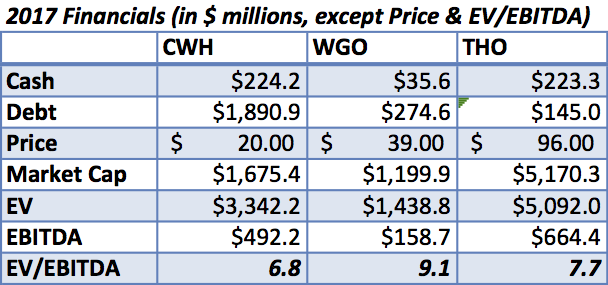 Take note that for Camping World's debt, I am including the "Notes payable – floor plan" line item of ~$974 million as short-term debt (it appears under the current liabilities portion of the balance sheet), which has the effect of making the EV/EBITDA multiple larger; nevertheless, it is a corporate debt that shouldn't be ignored. The past performance of Camping World serves as a backstop underpinning the company's ability to surpass its peers in the long term, making the current price appear to be a relative value discount.
But because the CWH landscape has changed through two quarters of 2018, a forward look is warranted. After the most recent report, Camping World management expects $375 million in 2018 EBITDA, and using the most current balance sheet, at $20/share, it trades at 9.5x forward multiple. At the same time, WGO and THO trade more cheaply at 8.5x and 6.6x 2018 estimates (assuming $170 million and $775 million in 2018 EBITDA, respectively). Because of the extra expenditures by Camping World, it looks like shareholders may have to pay a premium to own CWH; that is the key decision every investor must face here. As an exercise in EV/EBITDA multiples, the last table below provides different share prices relative to 5x, 10x, and 15x multiples, and demonstrates the potential for oscillation in prices. Keep in mind that the matrix is based on 2018 figures:

At this point, I'm operating under the assumption that at 5x, each stock is undeniably undervalued, while 15x is irrationally exuberant. That said, Camping World has a maximum upside potential of 115%, along with a downside of 96%. At the same time, WGO and THO exhibit ranges of 90% to -48% and 130% to -22%, respectively. Bringing the hypotheticals back to current 2018 multiples, it appears that Thor Industries has the most to gain and the least to lose from the standpoint of relative valuation. At least in the short term, value is not necessarily on the side of CWH shareholders.
Conclusion
Even though THO arises as the cheapest at current prices, at this point I'm willing to sacrifice short-term valuation for long-term prospects, and that ultimately leans the thesis toward Camping World. The company has a CEO with an extraordinary stake in the business, complemented with a management team eager to execute on expansion and growth through verticals like outdoor sports, rock climbing, fishing, etc. Similarly, the Camping World has experienced growing pains as evidenced by accounting troubles, the Gander Mountain acquisition, and the threat of external tariffs, all of which have contributed to a significant price decline, but will likely prove to be short-term obstacles that are surmountable. Finally, a concession must be made that all three companies are solid performers in the RV space, and all three may make viable investments; however, Camping World should be able to increase its value – not necessarily through short-term earnings, but by establishing itself as the "Category Killer" envisioned by the CEO.
Disclosure: I am/we are long CWH.
I wrote this article myself, and it expresses my own opinions. I am not receiving compensation for it (other than from Seeking Alpha). I have no business relationship with any company whose stock is mentioned in this article.
Additional disclosure: Nothing contained in this message is an offer or solicitation to buy or sell any security/investment, and is for informational purposes only. The author does not guarantee the accuracy or completeness of the information provided in this document. All statements and expressions herein are the sole opinion of the author and are subject to change without notice. Neither the author nor any of its affiliates accepts any liability whatsoever for any direct or consequential loss howsoever arising, directly or indirectly, from any use of the information contained herein.