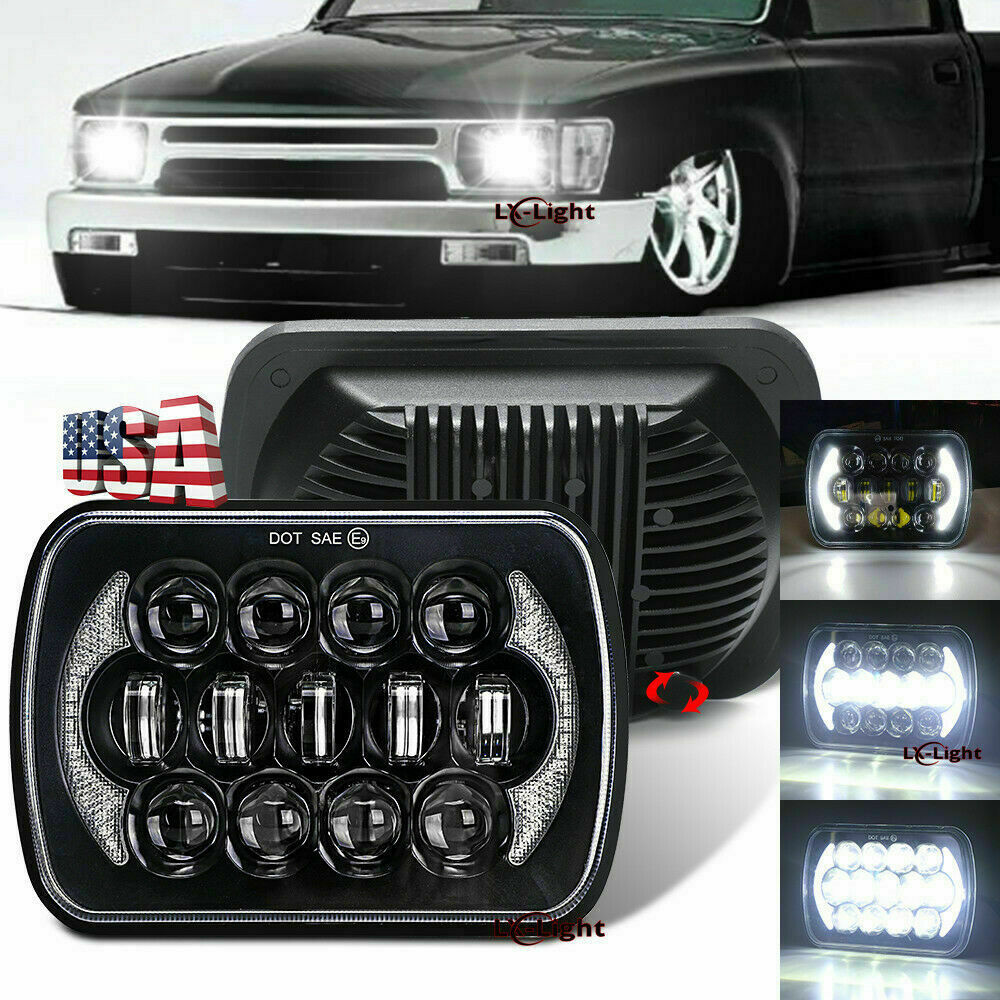 Price: 3899 USD
Brightest 5X7″ 7×6 inch Rectangle LED Cree Headlight DRL for Toyota Pickup Truck
(Package of 1)Brightest 5X7″ 7×6 inch Rectangle LED Cree Headlight DRL for Toyota Pickup Truck
Features:
– Newest 105W! Super bright ! High/Low beam:[email protected] beam,[email protected] beam, 6000K-6500K/white
– DOT approved,100% original best-performance Cree led chips with newest designed lens provide best vision for safe driving
– Plug&Play,shock-proof and waterproof(IP68), Upgraded cooling system,More than 80,000 hours lifespan, Totally Risk-free under 2 year warranty
– Better light pattern! Will NOT blind others' eyes while providing the brightest and widest vision. You can find similar headlights copied from us but they can't copy the inside.
– The real 105W brightness, the wider,farther,and safer light pattern, all make this best headlight in the market.
– Certifications: CE, RoHS, ISO9002, IP68,DOT Approved
Specification:
– Function: Hi/Lo Beam + DRL
– Size: 5×7 inch / 7×6 inch
– LED Power:105W/pcs
– Luminous Flux: [email protected] beam,[email protected] beam
– Operating Voltage: 9-32V DC
– Waterproof rate: IP 68
– High intensity Cree LEDs
– Color Temperature: 6000K-6500K
– Material: Aluminium heat sink body
– Lens material: PMMA Lens
– Life Span: more then 80000 hours
– Working temperature: -40~ 85C
Fitment:
Jeep Models with 5″x7″(7″x6″ ) stock headlights.
1987- 1995 Jeep Wrangler YJ
1984 – 2001 Jeep Cherokee XJ
1986 – 1992 Jeep Wrangler MJ Comanche
GMC Models with 5″x7″(7″x6″ ) stock headlights
GMC Savana 3500 ( 1998-2002, 2004, 2007, 2009-2012)
GMC Savana 2500 ( 1998-2001, 2004, 2006, 2008, 2010-2012 )
GMC Savana 1500 ( 1998-2001, 2003, 2005, 2007, 2009-2012 )
GMC Safari ( 1998-2002, 2004, 2005 )
GMC K3500 ( 1997-2000 )
GMC K2500 Suburban ( 1997-1999 )
GMC K2500 ( 1997-2000 )
GMC K1500 Suburban ( 1997-1999 )
GMC K1500 ( 1997-1999 )
GMC C2500 Suburban ( 1997-1999 )
GMC C2500 ( 1997-2000 )
GMC C1500 Suburban ( 1997-1999 )
GMC C1500 ( 1997-1999 )
Ford Models with 5″x7″(7″x6″ ) stock headlight
Ford F-550 Super Duty, Ford F-450 Super Duty, Ford F-350 Super Duty, Ford F-250 Super Duty, Ford F-250, Ford F-150, Ford E-450 Super Duty, Ford E-350 Super Duty, Ford E-350 Econoline Club Wagon, Ford E-350 Econoline, Ford E-350 Club Wagon, Ford E-250, Ford E-150 Econoline Club Wagon, Ford E-150 Econoline, Ford E-150
Chevrolet Models with 5″x7″(7″x6″ ) stock headlights
Chevrolet Express 3500, Chevrolet Express 2500,Chevrolet Express 1500, Chevrolet Astro
82-94 Chevy S10 Pickup
Toyota Pickup,Toyota MR2,Toyota Celica,Toyota Supra,Nissan 240SX
Any other car H6054 H6014 H6054LL 69822 6052 6053 with 5"x7"/7"x6" Rectangular Headlight
Package included:
1PC Black 5×7 7×6 inch 105w led headlight
Warranty:
5 years