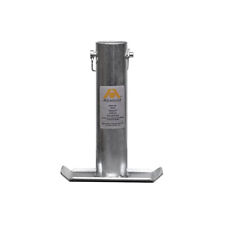 Price: 1599 USD
Atwood Tall Trailer Jack Foot Plate 2000LBS Capacity with Pin Base for A-Frame B




Atwood Tall Trailer Jack Foot Plate 2000LBS Capacity with Pin Base for A-Frame Boat, RV, or Camper 
Easily attaches to RV, camper, boat, or trailer jack. 
Reduces chance of lost caster or foot.
2000lbs. max capacity load. 
Included safety pin allows for quick and secure attachment.
Designed for A-frame jacks. 
Dimensions
Base: 7 1/4in. length X 3 3/4in. width
Height: 9 7/8in. tall. 
Diameter of cylinder: 2 1/8in wide.