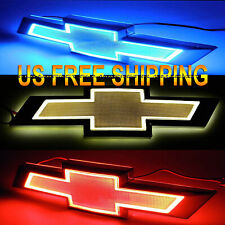 Price: 2495 USD
5D LED Chevy Car Emblem Trunk Tail Logo Light Badge Lamp Compatible Chevrolet




5D LED Car Emblem Trunk Tail Logo Blue Light Badge Lamp Compatible with Chevy Auto Parts Cruze Malibu Epica Captiva Aveo Fit for All Chevrolet of Cars
This product is not for trucks, not for Silverado. 
Size:17cm X 5.5cm/6.69inch X 2.16inch
( please also check the size of your tail emblem logo before the order)
Environmentally friendly and power saving
Durable and non-fading bright light beams
Good vibration resistance and stable emitting light
General model used in Auto lighting can be suitable to be applied in all types of vehicles
Easy installation
Specifications:
LED Color: Blue
Environmentally friendly and power saving
Fit: 
Cruze Malibu Epica Captiva Aveo Trax Equinox Spark 
Size:17cm X 5.5cm/6.69inch X 2.16inch
( please also check the size of your tail emblem logo before the order)
Voltage: DC 12V
Life span: 30,000- 50,000 hours
Power supply: DC 12V+/-10%
Power cable length: 0.6 meter

Package Includes:

  1 x 5D LED Car Tail Badge Light Emblems
This product is in gold color with Chevrolet original logo color when the power is not turned on. When the power is turned on, a White, Red, or Blue LED light is lit around the logo. If the surrounding is dark, it spreads over the entire logo according to the Light Color.
1:Can it fit all year models?
As our experience. It almost fit all year models. But because we can not know and master all data for all years car we suggest you can also check the size of the original logo.
if your measurement is less 0.05cm-0.1cm to our size.it will be no problem to fit and there is also 3M tape on the back to help to fix.

2:One item have 3 color light?
No. One Light only have one color and there are 3 colors you can choose for this item they are Red/white/blue. If you need other colors feel free to contact us or search on our store.

3:Installation
It is Easy Red wire to the battery+ and black wire to the battery is – 
【Applicable】 The appearance of this product is consistent with the original car standard, and it can be directly replaced by the original car standard when installed in the car tail box. Its special vacuum plating technology not only ensures the same gloss as the original logo, but also ensures high transparency and uniform brightness.

【High Quality】 It adopts high-quality LED lamp set, featuring high brightness and long service life. It is specially designed to be waterproof and dustproof to ensure long-term use.

【Unique design】 This product is specially designed for car modification enthusiasts. When the daytime car light is not bright, there is no difference with the original car standard. When the night license plate lighting is turned on, the LED car light will also light up, making the car Marked in the night to become dazzling, rich in future technology, highlighting the noble blood of your car.

【Easy Installation】 Use high-quality car special double-sided adhesive, strong and strong lasting! The LED light inside is specially waterproof and dustproof! LED lamps have a lifespan of up to 100,000 hours.

【Satisfaction Guarantee】 Service ensure 90-day free refund, if the product has any quality problems, please don't hesitate to contact us at the first time.
Shipping and handling charges for eBay items are listed in the item description. All of our orders are shipped via FedEx or USPS ground and in most cases arrive in 1-4 business days after leaving our warehouse.
PLEASE NOTE:
We make every effort to have all products in stock. However, it may be necessary to order products from our supplier. This will result in additional time for shipping. We will notify you within 1 business day if additional shipping time is required.
Our return policy is straight forward and customer friendly. Our policy is a common sense approach to doing business. We will take any item back within 14 days of purchase as long as it is within the constraints of the manufacturer's warranty return policy (which we are obligated to honor) and the following conditions are met:
The item must be in original, unused condition and must be returned in the original packaging.
We are unable to accept any item that has been installed and/or damaged. In addition, we cannot accept return items that are not in the original packaging. These are constraints set by product manufacturers and we are obligated to honor their policies on returns. Items returned in poor condition or having parts missing will not be credited.
Return shipping charges must be paid by the customer.
Unless our company or the listing is in error, the customer is responsible for paying return shipping costs.
FOR EXCHANGES: The customer will be responsible for the shipping and the return shipping costs of the original item(s). As a courtesy to you, the shipping on your replacement item(s) will be Freight Free providing they fall in the parameters of our Freight Free policy.
The item/items must be fully insured.
The customer is responsible for providing shipping insurance that covers the full price of any item(s) being returned.
WARRANTY ITEMS: Our company sells the highest quality products, most of which carry a manufacturer's warranty. We will take care of the problem here at our store, or put you in touch with the manufacturer if the situation warrants.