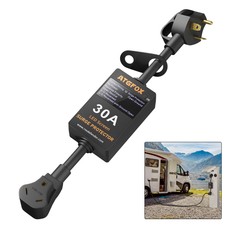 Price: 8899 USD
30 Amp RV Truck Surge Protector Power 4100 Joules Waterproof LED Screen UL ETL




Description
Feature:
 30 Amp RV Surge Protector: Identifies faulty shutdown power and provides a 4100 joule surge protector. Protect your RV electrical equipment from dangerous high/low voltages, electrical disturbances and sudden power surges caused by thunderstorms.
 Circuit Analyzer: With fault identification indicator. You can judge the faulty power by the indicator light, so as to avoid the damage to the RV electronics. It detects the most common wiring faults such as Correct Wiring AC Surge Protection, No Power, Open Ground, Reversed Polarity, Open Neutral, L-G Reversed, L-G Reversed with Ground Open.
 Designed For Outdoor Use: This 30 amp rv surge protector has a 3.55-inch informative LED screen clearly.Equipped with a waterproof cover for extra protection when the device is plugged in. RV essentials. We also provide you with anti-theft locking bracket to make sure the surge protector doesn't get lost.
 Easy to Use: Just plug the RV surge protector between the power source and the RV to make sure the LED lights are wired correctly. Both ends of the plug are designed with ergonomic handles for safe and easy insertion and removal.
 Our After Sales Service: Our friendly and reliable customer service team will get back to you within 24 hours. You can buy with confidence and enjoy our 30-day returns and 60-month warranty.
Specification:
Input Voltage: 125VAC

Max Current: 30AMP

Max Power Rating: 3750W

Surge Protection Rating: 4100 Joules
LED Digital High-Definition Display(3.55-inch)
The ATGFOX RV Surge Protector has an LED digital HD display, when you connect the wire to the power base, press the "ON" switch button, the LED display will show a fault indication, and has diagnostic Correct Wiring AC Surge Protection, Reversed Polarity, No Power, Open Ground, Open Neutral,L-G Reversed with Ground Open,L-G Reversed.Miswired pedestal indication, Surge failure indicator.
4100 Joules of Surge Protection

ATGFOX RV surge protector which can provide 4100 joules of advanced surge protection to absorb high-voltage spikes and protect the RV from dangerous high/low voltage, sudden power surges.

Anti-arc Design

We increased the diameter and thickness of the pins by using brass to prevent arcing from a potential loose plug.

Secure Lock Ring

The locking ring is designed to be more secure to use to ensure your surge protector doesn't get lost, ideal for your camping trips.
Waterproof Performance

With an IP67-rated waterproof cover, its enclosure is designed provides increased safety in rain and thunderstorms.

Size Specifications

Length: 20.5 IN,Surge Protection: 4100J, Rating: 30A / 125V / 3750W, ,Plug Type: 30 Amp Male (NEMA TT-30P) / 30 Amp Female (NEMA TT-30R).

Polyester Waterproof Bag

Equipped with a black waterproof bag, you can use this waterproof bag to protect your RV surge protector, whether it's sunny or rainy.
Package Includes:
1 x 30Amp RV Surge Protector
1 x IP67 Waterproof Cover