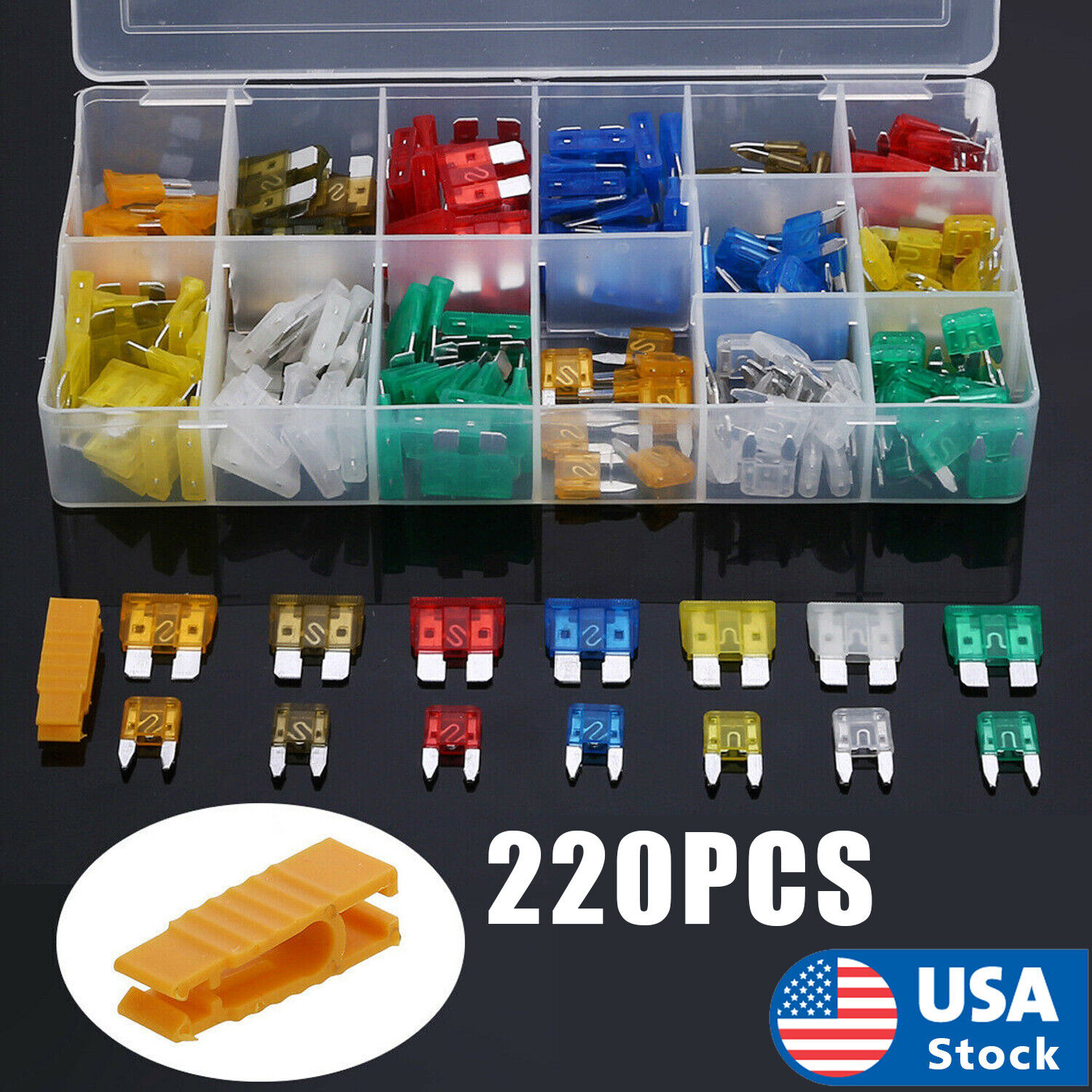 Price: 1059 USD
220pc Blade Fuse Assortment Auto Car Truck Motorcycle FUSES Kit ATC ATO ATM USA
Product Features:

Protection: These 32 Volt fast-acting replacement fuses can effectively protect your vehicles, farm machines and electrical device/ electrical gadgets from short circuit, overload, etc.
Easy Installation: They can be easily identified by their color-coded plastic housings, and the carved amp rating figures on the top.
Detection: These fuses are made from transparent PES with aluminum inserts and transparent housings, which are designed for viewing the fuse link status and quick detection of a blown fuse.
Compatibility: Suitable for Cars, Trucks, SUVs, ATVs, UTVs, Camper RV, Motorcycles, Fleet, Golf Car, Boat, snowmobiles, and most DC applications etc.
Car Blade Fuse Assortment: This set comes with 120pcs small blade fuses and 100pcs standard blade fuses, which are essential for every owns more than one car.
All Sizes: This plug-in replacement set contains a complete assortment of regular blade type fuses in 10 most commonly used ranges for cars and trucks, which can be mounted in fuse blocks, in-line fuse holders, or fuse clips.

Product Specification:

| | |
| --- | --- |
| Material | plastic + metal |
| Size | 1.8*1.9CM / 1.6*1CM |
| Box size | 19*13*3.6cm |
| Ampere | 2A 3A 5A 7.5A 10A 15A 20A 25A 30A 35A |
| Quantity | 220PCS |

Package Includes:

ATO/ATC/ATS/APR Fuse
2 AMP Car Fuse: 10pc
3 AMP Car Fuse: 10pc
5 AMP Car Fuse: 10p
7.5 AMP Car Fuse: 10pc
10 AMP Car Fuse: 10pc
15 AMP Car Fuse: 10pc
20 AMP Car Fuse: 10pc
25 AMP Car Fuse: 10pc
30 AMP Car Fuse: 10pc
35 AMP Car Fuse: 10pc
ATM Mini Fuse
2 AMP Car Fuse: 12pc
3 AMP Car Fuse: 12pc
5 AMP Car Fuse: 12p
7.5 AMP Car Fuse: 12pc
10 AMP Car Fuse: 12pc
15 AMP Car Fuse: 12pc
20 AMP Car Fuse: 12pc
25 AMP Car Fuse: 12pc
30 AMP Car Fuse: 12pc
35 AMP Car Fuse: 12pc