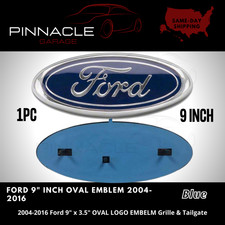 Price: 2035 USD
2004-2016 9 Inch Front Grille / Tailgate Ford Emblem Badge Oval Blue




QUALITY: Made of high quality aluminum with ABS, waterproof, durable and corrosion resistant. The clear gloss resin on the surface can keep the emblem smooth and more fantastic.
SIZE: 9 inches wide / 3.5 inches high. Fit most of a car's front grilles and rear tailgate. 
INSTALL: Remove the old badge by unscrewing the fixing nut and clean the mounting surface. Tar off the 3M tape of the emblem, align the three pins to install the emblem on the car, and gently press to make it more secure.
SATISFACTION: 100% satisfaction guarantee. If you have any problems, please feel free to contact me. We will provide you with a 100% refund and prepaid return label.
Length: 9"    (23cm)
Height: 3 ½" (9cm)
Compatible Vehicles:
⦾2004-2014 Ford F-150 
(Front Grille & Tailgate-no camera)
⦾ 2005-2007 Ford F-250 
(Front Grille Only)
⦾ 2005-2007 Ford F-350 
(Front Grille Only)
⦾ 2011-2014 Ford Edge 
(Front Grille Only)
⦾ 2011-2016 Ford Explorer 
(Front Grille Only)