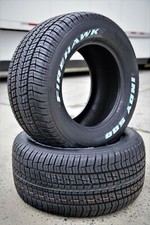 Price: 28893 USD
2 Tires Firestone Firehawk Indy 500 275/60R15 107S Performance All Season




Low Prices On new tires
Firestone
Firehawk Indy 500
275/60R15
2 Tires Firestone Firehawk Indy 500 275/60R15 107S Performance All Season
*Tread pattern & sidewall design may vary from pictures
Tire Information
Tire specifications:
Brand: Firestone
Performance: Touring
Model: Firehawk Indy 500
Season: All Season
Run Flat: No
Section Width: 275
Size: 275/60R15
Aspect Ratio: 60
Sidewall: RWL: Raised White Letters
Rim Diameter: 15
Load Index: 107
Tread Depth: 12/32
Speed Rating: S
Rebate Available: NO
Load Range: SL
Seller Notes: BRAND NEW
Treadlife: N/A
Production Year (DOT): N/A
UTQG: 500AB
Overall Diameter: 28
Car Type: Truck/SUV
SKU: N889910-99-2
Load Index and Speed Rating: 107S
Manufacturer Part Number: 118125
Description:
Firestone Firehawk Indy 500
Features and Benefits:
– All weather traction
– Enhanced cornering ability
– Shorter braking distance
– Excellent high speed durability
– Upgraded handling
Description:
The Firestone Firehawk Indy 500 is a performance and high performance, all season tire manufactured for passenger vehicles and SUVs. This model has some touring sizes as well.
Attention! Due to the size of the tires, Packages might be SEPARATED in the FedEx facility and not be DELIVERED on the SAME DAY, even though we do ship them together. Tracking information can be checked on FedEx.com with the master tracking number you will receive via email. For example: You can receive 3 tires in one day and the 4th one the next day or the day after, or one tire in one day and the second one day after.
Firestone Firehawk Indy 500
FEATURES AND BENEFITS
All weather traction
Enhanced cornering ability
Shorter braking distance
Excellent high speed durability
Upgraded handling
OVERVIEW
The Firestone Firehawk Indy 500 is a performance and high performance, all season tire manufactured for passenger vehicles and SUVs. This model has some touring sizes as well.
The tire promotes excellent all weather road gripping ability. The new high performance silica-enhanced L. L. Carbon tire compound and the aggressive asymmetric tread pattern work together to ensure a safe driving experience in dry, wet and winter weather. The silica in the compound and the L. L. Carbon strengthen the tire and ensure exceptional wet and winter weather road gripping ability. The center Proprietary Pulse Grooves upgrade the tire's water and slush dispersing ability to ensure a safe drive in wet conditions by preventing dangerous hydroplaning situations.
The tread pattern sports wide shoulder tread blocks that improve the cornering and maneuvering ability. They provide additional biting edges which firmly grip the road during such maneuvers. They maintain road contact at all times, which makes the tire's maneuverability exceptional. The special innovative tire compound and the tread pattern's center circumferential grooves boost the road grip during braking. They create friction at the moment of braking which ensures a shorter braking distance and heightened braking ability. The better braking and cornering make the tire easier to control in all weather conditions.
The Firehawk Indy 500's internal structure and the shoulder tread design's large tread blocks promote a better steering responsiveness and driving stability. The structure features high-turnup polyester casing and twin high-tensile steel belt and nylon reinforcements that maintain the tire's optimal shape under the driving pressure. As the tire keeps its original shape, it does not deform under the driving forces affecting it, which not only stabilizes the tire against the pressure, but it also allows the model to perform to its utmost capability. The tread pattern keeps its contact with the road which upgrades the steering responsiveness, allowing the driver to quickly and precisely control the vehicle.
RIM NOT INCLUDED
Shipping
FAST SHIPPING
FREE SHIPPING within the lower 48 contiguous States.
Orders shipped to the US are shipped with FedEx Ground/Home Delivery. FedEx requires a physical address. The average delivery time ranges between 1-6 business days.
We cannot ship US orders to PO BOX, APO, FPO, HI, AK, PR, GU or VI addresses.
For US orders Signature Required delivery will not be processed automatically unless the Item value is above $750. Please contact us directly to request Signature Required delivery otherwise.

For Buyers from Missouri or if the order is shipped to Missouri a 4.225% MO sales tax will apply.

For US orders Sales tax for products that are being shipped to other
states is collected and remitted by eBay. For more information see
article "Taxes and import charges"
International orders are shipped through eBay Global Shipping. The orders will be shipped to eBay shipping warehouse and the remaining distance will be handled by eBay.
As eBay Global Shipping is taking care of the orders, we do not have any control over the delivery time, the customs fees or the delivery fees charged.
International orders are subjected to the limitations set by eBay. Depending on the item's weight, price and eBay category, orders might be subjected to cancellation.
All Orders placed before 12PM EST (Eastern Standard Time) will be shipped out the SAME DAY either to the BUYER or to the eBay Global Shipping center. FedEx does not pick up orders on weekends and national holidays.
Special delivery instructions cannot be provided as FedEx is not able to process them.
Tracking information to the eBay shipping center is made known to the BUYER. However, with international orders our tracking number is only valid until the item reaches the Global Shipping center.
As the supply chain network is still disrupted due to the current worldwide situation, we're doing everything within our power to ensure orders are shipped as quickly as possible. However, despite our best efforts, shipping and delivery times may change unexpectedly. Please check your Order Status for the most current estimate of the shipping time. Thank you for your patience and understanding.
Returns
EASY NO HASSLE NINETY (90) DAY CUSTOMER SATISFACTION
90 DAYS: We accept Returns within a 90-day period!
FULL REFUND: No Restocking Fee will be applied and a Full Refund will be provided if the Item is returned in unused condition.
US-based orders are accepted with a FREE RETURN. Contact us for help and a hassle-free formal Free Return with all US-based orders!
International orders are also accepted for returns, but the return fee needs to be covered by the BUYER.
FULL ASSISTANCE: If the Item is incorrect, damaged or in any other way not as described, contact us for help! We always work with our Buyers to resolve any issue.
By making a purchase, the Buyer agrees to the Production Year (if any) listed in the Item specifics.
Prior to submitting the Order, the Buyer must verify that Item specifics are appropriate for their vehicle. Please make sure you are buying the correct Item by double-checking prior to placing an Order; if you need any help, please contact our customer service team!
By submitting the Order, the Buyer understands that Priority Tire LLC doesn't actually manufacture any Items and simply only sells them (advertising them as accurately as possible) which may lead to slight variance with the received Items.We will be happy to provide a Free Return if you make a mistake while purchasing but note that we reserve the right to not provide any additional/extra Refund or compensation regarding the Production Year and unexpected variances in the Item's specifications!
TERMS OF SALE
The Item is for TIRE(S) only, wheel rim is NOT included (unless otherwise stated). The wheel rim shown in the photos is for reference purposes only.
Photos shown are stock photos and not of the individual Tire being sold. Photos represent the Brand and Model of the Item listed for sale.
Tread patterns may vary to minor degrees.
Any mentioned Mileage Warranty is described as accurately as possible using the information provided to the public by Tire Manufacturers.
All Tire Specifications displayed are supplied by the Manufacturers.
All Items sold are subject to our 90-day customer satisfaction Return Policy.
All orders will be shipped through eBay Global Shipping and its regulations apply.
Prior to placing any Order, the Buyer must make sure that the specifications and size of the Item they are purchasing are appropriate for their vehicle.
The Production Year (if any) is specified in each Item's "Item specifics". By making a purchase, the Buyer agrees to receive the Item with the advertised Year (if any). We try not to sell Tires that are more than 4 Years old, but there may be some variance in the received Tires.
Sales Tax will be added at checkout to the final value for all Orders according to the Buyer's State. All Sales Tax fees are calculated, processed and handled by eBay itself. (Learn more)
In purchasing any Item(s) from Priority Tire LLC the Buyer agrees that regardless of where they may be located and where the Item may be shipped to, Pennsylvania law shall apply to this transaction (excluding its conflicts with other laws); this is  in particular due to the Order being placed to Priority Tire LLC offices in Pennsylvania, the payment being received in Pennsylvania and the Item being shipped from the closest warehouse to the Global Shipping center, where eBay takes care the  rest of the shipping arrangements.
UPON PLACING AN ORDER FOR TIRES THE PURCHASER UNDERSTANDS AND AGREES
THAT, IN EXCHANGE FOR PRIORITY TIRE LLC'S RETURN POLICY, ALL TIRES ARE
SOLD WITHOUT ANY EXPRESS OR IMPLIED WARRANTIES, OTHER THAN THE
STATEMENTS CONTAINED ABOVE, AND ANY SALE RESULTING FROM YOUR ORDER IS
AS-IS, WHICH MEANS THERE ARE NO IMPLIED WARRANTIES, WHETHER OF
MERCHANTABILITY OR FITNESS FOR A PARTICULAR PURPOSE. PUT ANOTHER WAY,
THERE ARE NO WARRANTIES WHICH EXTEND BEYOND WHATEVER IS STATED IN THESE
TERMS AND CONDITIONS.
If you have any questions or concerns please contact our customer support team.
Related Items