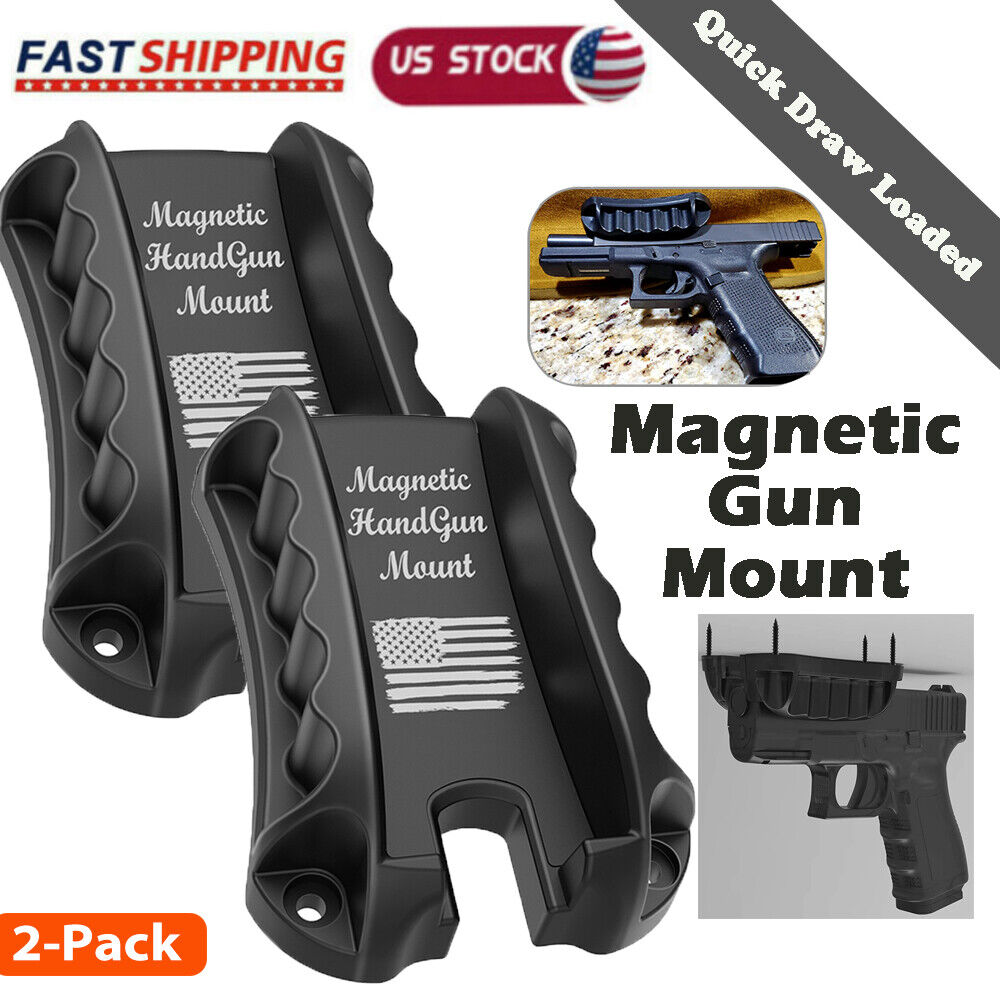 Price: 1769 USD
2-Pack Gun Magnet Mount, Magnetic Concealed Gun Holster Pistol Holder For Car




Products are designed to be a compact profile so that you can conceal the magnet holder easily in your car, truck, on the wall, door, vault, next to bedside, safe, under the desk and table at your home, office.
​

UNIQUE TRAIT: Our magnetic gun mount have several advantages. our product have powerful holding strength. it is easy to conceal at home and vehicle. the biggest advantage is you don't need to worry about our product will damage your own belonging/firearms. Our products have soft surface which won't damage to your gun. 
Suitable type: Our magnetic gun holder&holster designed in new structure to reduce the risk of slide-down item. 
Glock Series 17 19 26 43 and other, M&P 40 Shield 9mm, .45 ACP, Sig Sauer, Taurus, Springfield XD Series XDM 911, Ruger ec9s, Ruger LCP SR40, HK VP9, Kahr P40, Sig SP2022 and so on.
. (not for flat top gun)
⭐POWERFUL MAGNETIC GRIP The  Cavalry Series Gun Magnet is built with neodymium rare earth magnets, safely mounting . of handgun. Compatible with nearly all handgun/pistols/CCWs with flat tops (please refer to our listing pictures for product dimensions).
⭐QUICKDRAW FAST LOADING/RACKING DESIGN Our quickdraw design allows you to simply push your mounted handgun against the front of our gun magnet to rack your slide, saving you that precious one extra second during an emergency situation. Install and conceal your handgun/CCW on any flat surface: your car, truck, desk, bed frame, wall, doorway, beneath your coffee table, etc.
⭐DOESNT SCRATCH YOUR HANDGUN?ABS plastic construction protects your firearm from scratching when mounted, allowing for safe, quick, and easy mounting/racking without damaging your pistol.
STRENGTH: It can hold your handgun very securely in your car even experiencing on a bumpy road and toughest terrain.
PACKAGE INCLUDES: 
  – 2 x strong magnet mount 
  – 8 x 0.75 inch mounting
  – 8 x 1.2 inch mounting screws
  – 8 x    colloidal particles "
Click "Buy Now" to order yours!