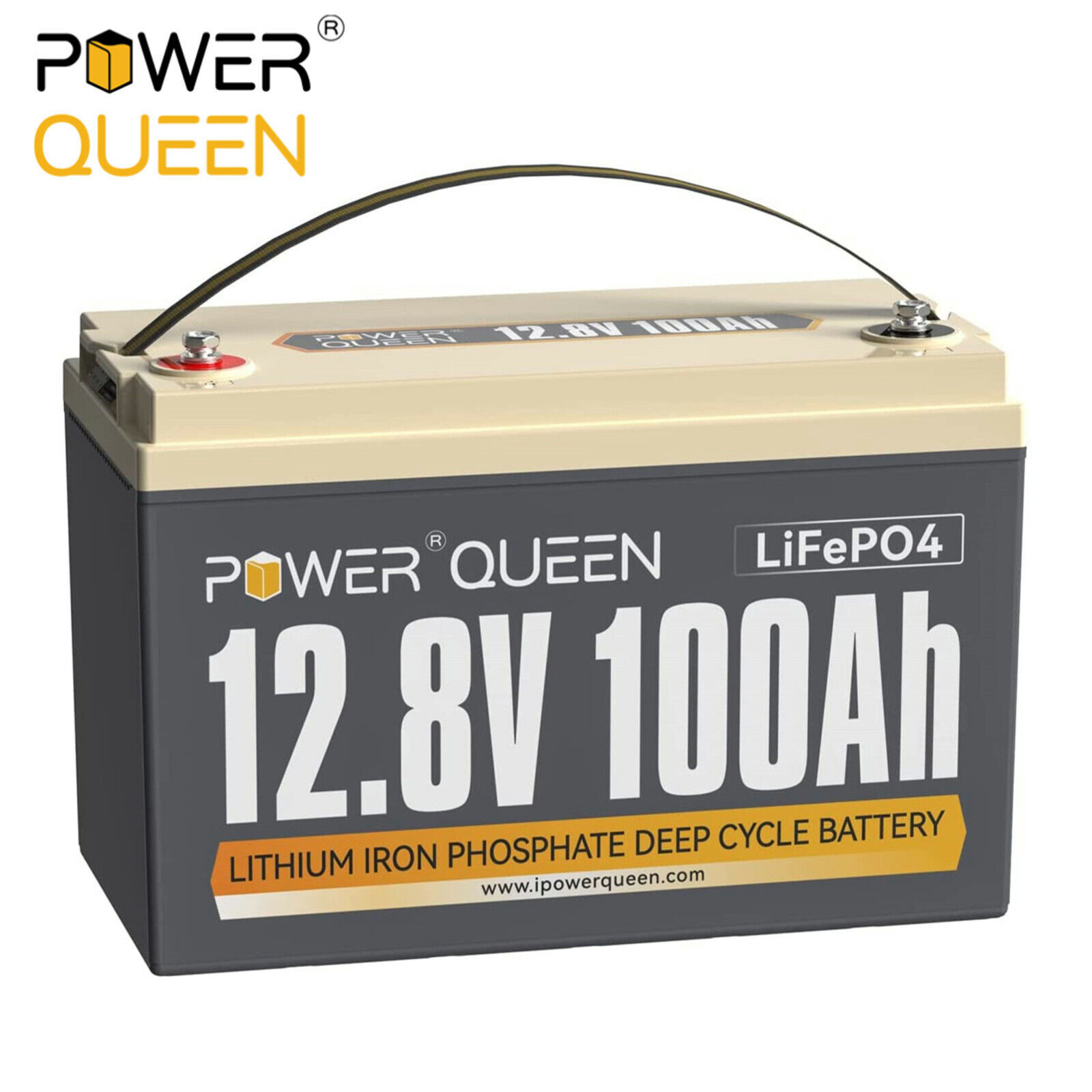 Price: 35999 USD
12V 100Ah LiFePO4 Deep Cycle Lithium Battery w/ 100A BMS for Solar RV Off-grid




Meet Power Queen12 V 100 Ah  LiFePO4 Deep Cycle battery, the pinnacle of deep cycle lithium-ion battery technology!
The battery weighs only 24.25 lbs.
Our batteries run in various systems, including marine, RV, van, and off-grid!
It's time to upgrade your heavy lead-acid batteries to Power Queen LiFePO4 batteries.
Now you can put your battery anxieties to rest and focus on your next truck camper adventure!
  FEATURES
【Half Lightweight And Twice Capacity】

Power Queen 12.8V 100Ah LiFePO4 battery weighs only 24.25 lbs, only half weight and providing twice capacity in the same size as lead-acid batteries, you can easy to move and install. And our LiFePO4 battery is 100% usable capacity compared with lead-acid battery only provide 60%~70% capacity, which can be tested by a percent state of charge meter.

【Extendible Storage For Various Scenarios】

Power Queen 12.8V 100Ah LiFePO4 battery can be connected in parallel & in series for larger capacity. Allow being extended up to 4S or 4P to get Max 400Ah capacity or Max 48V(51.2V) voltage. Widely used in most areas such as RV, Solar, Household Battery, Off-Grid and Electric Scooter, Electric Handicap and so on. Note: The battery cannot be used as a starting battery . If you are not sure that, please contact customer service for relevant information.

【BUILT-IN 100A BMS & 5-Hour Fast Charging】

Our 12.8V 100Ah Lithium battery builds in 100A BMS, which can prevent the LifePO4 battery from the most common issue causing of battery failure, such as overcharge, over-discharge, over-current and short circuit. Our 12.8V 100Ah LiFePO4 battery only needs a 5-hour fast charging time when charging by 14.6V 20A LiFePO4 battery charger, saving 50% time in charging compared with lead-acid battery which needs 10 hours charging time to around 70% capacity.

【Eco-Friendly Energy & Save 1/2 Power Fees】

Power Queen 12.8V 100Ah LiFePO4 battery provides 4000+ cycles times and 1280Wh energy, which means our 100Ah battery produces 5120kWh (1280Wh*4000 cycles times=5120kWh) in its 10-year lifespan, which means you will save 1/2 of power fees compare with using the utility power. Our LiFePO4 batteries are widely used for solar system, RV trip and outdoors activities, you could enjoy self-reliant colorful life when using the battery in solar source.

【5-Year Warranty & 24 Hours Timely Service】

Power Queen provides 5-year warranty for 12.8V 100Ah LiFePO4 battery. We're struggle to provide the safest batteries and the most professional service to every customer. If you have any questions, please feel free to contact us. And we provide safe and strong battery package and fast delivery because the battery will be shipped from our local California warehouse. Normally, the shipping time would be 2~7 workdays due to difference zones of the US.
SPECIFICATION
Battery Max. Load Power: 1280 W
Max. Continuous Charge/Discharge Current :100A
Application: Solar, RV, Camper, Off-grid,
Trolling Motor (30~70lb thrust)
PACKAGE INCLUDED
12V 100Ah LiFePO4 Battery Pack *1

Terminal Screws *2 Pairs

Warranty Card *1

Product Manual *1
Please be noted: battery charger is not included.



---

You might be interested in these


| | | | | |
| --- | --- | --- | --- | --- |
| | | | | |
| Model | 12.8V 50Ah | 12.8V 200Ah | 12.8V 200Ah Plus | 12.8V 300Ah |
| Nominal Voltage | 12.8V | 12.8V | 12.8V | 12.8V |
| Rated Capacity | 50Ah | 200Ah | 200Ah | 300Ah |
| Built-in BMS Board | 50A | 100A | 200A | 200A |
| Max. Load Power | 640W | 1280W | 2560W | 2560W |
| Energy | 640Wh | 2560Wh | 2560Wh | 3840Wh |
| Product Size | 7.79 * 6.53 * 6.69 inch (L*W*H) | 20.5 * 9.37 * 8.54 inches (L*W*H)  | 20.5 * 9.37 * 8.54 inches (L*W*H)  | 20.5 * 9.37 * 8.54 inches (L*W*H)  |
| Weight | 11.57 lbs | 48.28 lbs | 49.60 lbs | 62.83 lbs |
---
On Sep 3, 2022 at 19:50:08 PDT, seller added the following information: