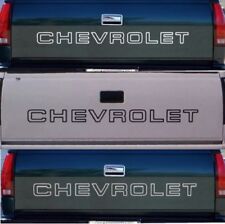 Price: 1595 USD
1 CHEVROLET Tailgate Truck Lettering 1500 Silverado Sticker Vinyl Decal B W SLVR




One Chevrolet Tailgate Vinyl Decal Sticker
CHOOSE COLOR:
 BLACK / WHITE or SILVER
Please leave us a note at checkout or a send us a message after payment is made about your color choice. NOTE: If no color is chosen we will send you 
•Brand New – Sold individually 
•4″ x 45″ 
•Quality Vinyl backed with strong adhesive 
•These durable Decals are rated for up to 7 year outdoor use 
•Looks great on the exterior or interior – Easy to install!
Great looking Chevrolet Logo with Gloss finish and measures in at 45″ long and 4″ tall. 
This durable vinyl decals come with a strong adhesive to keep them in place. 
This decal look great on the interior and exterior.
Free Shipping on all of our items!!
All decals ship out within 48 hours of payment
First Class USPS Shipping 2 – 5 days
Application Instruction – For regular Stickers / Decals
Step 1

Clean the area where the sticker will be applied on thoroughly with rubbing alcohol or soap and water. Do not use Windex or similar products because it will leave a residue behind that will prevent the sticker from adhering well.
Step 2
Peel the white paper backing off the sticker. Do this slowly and carefully to avoid tearing or damaging the sticker.
Step 3
Slowly lower the sticker onto the surface and place it into desired position. Starting at the centre and working carefully outwards, ensuring constant pressure is applied across the entire design. Gently smoothen the sticker to ensure good contact, using extra care not to scratch either the image or the substrate.
Note:
·          Avoid applying the sticker on rough or uneven surfaces
·         Avoid applying the sticker in extremely hot or cold temperatures
·         After applying, do not rub the sticker with force, solvent-based cleaning solutions or rough materials
Our products are of excellent quality and therefore there IS NO warranty if:
* THERE IS AIR BUBBLES AFTER APPLICATION OF THE DECAL
* IT DOESN'T FIT THE WINDSHIELD ACCORDINGLY
* YOU REQUIRE A CERTAIN COLOR OR SIZE ( CUSTOMIZED) YOU WOULD NEED TO NOTIFY US BEFORE PURCHASING, OTHERWISE WE WON'T ACCEPT COMPLAINTS WHEN IT HAS BEEN SHIPPED
* ** IT IS RECOMMENDED TO INSPECT THE DECAL ONCE OUT OF THE BOX FOR ANY DEFECTS, IF THERE ARE ANY, PLEASE TAKE A PHOTO AND MESSAGE IT THROUGH EBAY… ONCE PLACED ON THE WINDSHIELD, WE CANNOT ACCEPT ANY COMPLAINT ABOUT IT THEN.