Companies don't often radically transform themselves, but that's exactly what RV parts manufacturer Patrick Industries (NASDAQ:PATK) has done coming out of the recession. With an aggressive acquisition-driven growth strategy, Patrick has created substantial shareholder value.
The question is if this can continue: after analyzing the company's path over the past few years, as well as the broader RV market, I think the pace (and cost) of growth going forward will not nearly be as favorable. That's not necessarily a bad thing – I think Patrick can still deliver double-digit revenue growth and modest operating leverage if the market cooperates – but I would caution prospective investors to take note of the fact that we appear to be closer to the next RV sales peak than the trough, as I discussed in my write-up of Winnebago.
With that, Patrick shares offer an interesting angle for those looking for pure-play exposure to RV sales, but I don't think the upside:downside ratio is asymmetric here.
Acquisition Spree: Value Creation Engine Running Out Of Steam?
While Patrick has certainly seen organic growth thanks to the recovery in the RV markets, it's not really clear to me from its results that it is a materially better operator than anyone else – indeed, on the operations front, peer Drew Industries (NYSE:DW) posts better margins not only in absolute terms. Moreover, Drew has also been leveraging RV industry growth into strong gross margin gains over the past few years: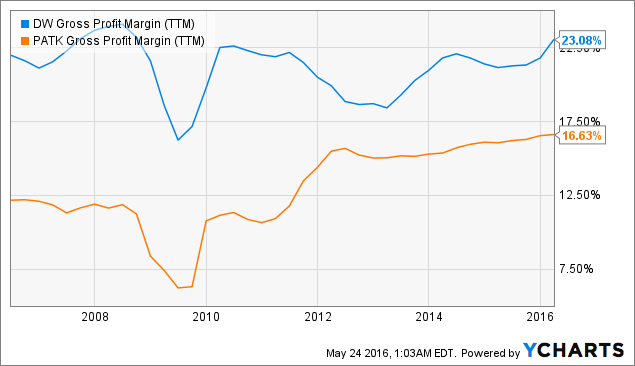 At Patrick, the bigger part of the story appears to be the company's aggressive scale play over the past few years: including the recent Cana deal, it's acquired $600 million in revenues since 2010, versus a sub-$250 million revenue level then, a ~$350 million revenue level going into the crisis, and a >$1 billion revenue run rate today (including acquisitions from 2015 and so far in 2016).
I'll talk about the risks of this strategy later, but actual risks aren't the only concern here. The other is that as the RV market has strengthened, confidence in the industry has clearly increased (judging by a boatload – or should I say RV-load – of competitive commentary I reviewed, including from organizations like the RVIA.) With higher confidence comes higher seller expectations, and indeed, company-provided data on deals demonstrates that average revenue multiples paid have climbed dramatically. Coming out of the recession, Patrick was making bargain purchases at 0.3x revenues, but today deals are happening at 2-3x those multiples: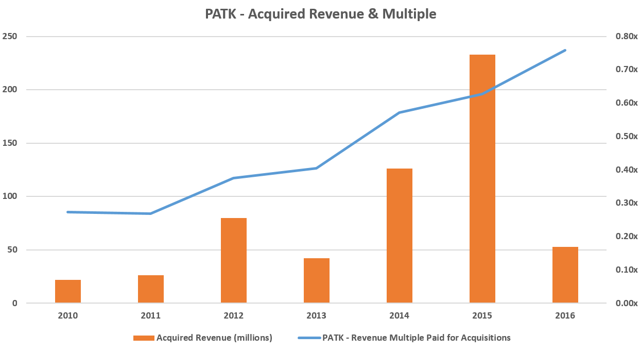 Click to enlarge
Source: data from March 2016 Patrick Industries Investor Presentation as well as Form 8-K filed on 5/23/2016. Chart is author's own work.
The most recent acquisition of Cana Holdings is a good example. Patrick paid just under $17 million for Cana, which generated revenue of $18 million in 2015. That equates to a nearly 1x revenue multiple – continuing the trend of paying higher multiples. While margin information on Cana was not disclosed, there's no immediate reason for me to believe that its margin profile is substantially different from consolidated Patrick or that of other acquisitions.
What I think the market may fail to grasp here is that there's a double-whammy effect. The streams of revenue that Patrick was buying below 0.4x revenue from 2010-2012 likely saw substantial organic growth, given the significant recovery in RV sales. They also likely saw capacity-driven margin improvement – although gross margins haven't ramped dramatically, thanks to operational leverage, Patrick's bottom-line margins have done pretty well over the past few years:
I discussed some concerning signs about RV industry growth in my write-up of Winnebago (NYSE:WGO), so I won't spend too much time discussing it, but I will point out that even Patrick President Andy Nemeth characterized the industry as being in the "sixth inning" of its cycle (see the Q4 call transcript here). In other words, even the company – who I think is a little too optimistic – thinks that we're closer to peak than trough, and yet they're not slowing down the pace of acquisitions despite already being ~2x levered.
Again, I'll get to the risks here in a second – but the point remains that going forward, Patrick won't have as much of a tailwind from buying businesses at bargain multiples and getting an immediate boost from rapid growth in the RV market. Since the multiples now being paid imply pretty robust multiples – even if you factor in synergies – value creation will thus become more reliant upon running the acquired businesses well.
Risk Factors: Buying Is Easy, Integrating Is Hard
There are several factors that make me wonder if Patrick has actually done a good job of integrating its many deals. My guess is no, for three reasons. The first, and most obvious, is pace – they've acquired so many companies in such a short time span that it's simply challenging to imagine they're simultaneously folding these operations in while also growing them. The second, perhaps less obvious, is that the company's acquisition strategy is relatively newfound – it certainly wasn't scaling at this pace going into the recession – and these skills take time and organizational expertise to develop.
The third reason, which takes a little digging, is the surprisingly slow pace at which Patrick's gross margins have improved. In a roll-up like this, where Patrick is buying a lot of small/fragmented companies, I would expect material gross margin improvement as the company takes advantage of things like facility consolidation, sourcing improvement and so on. Yet Patrick's gross margins have not moved all that much – from 15.3% in 2013 to 16.5% in the full-year 2015, and up only 50 bps from 15.8% to 16.3% in Q1 2016.
Some tidbits from the 10-K further this argument. For example, the "Suppliers" section (page 12) notes that roughly 49% of raw materials were purchased from the top 20 suppliers during 2015, while the five largest accounted for a quarter of total sales – yet this is actually down from 57% and 31%, respectively, during FY2013, which itself was down from 65% and 45% in FY11. Obviously, some of this is attributable to product line expansion, but it's certainly not indicative of major supplier consolidation.
Other metrics too call into question whether Patrick has really done any integration – for example, revenue per employee has not materially improved: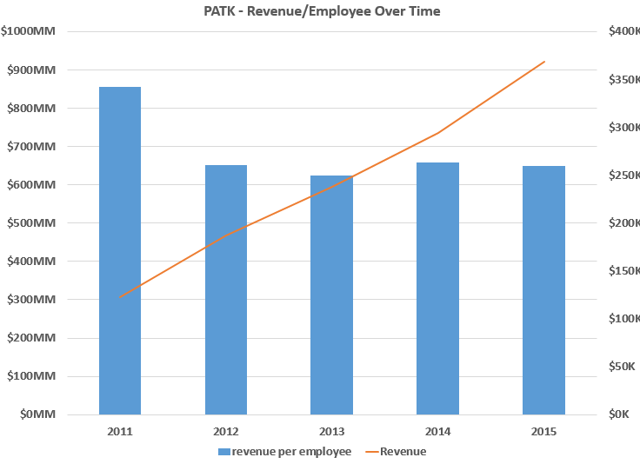 Click to enlarge
Source: Author's own chart, data from PATK 10-K filings
Again, some of this will be distorted by specific acquisition timing – if you acquire a company on October 1st, their employees get counted at the end of the year but you only benefit from one quarter of revenue.
None of this is to say that Patrick is a bad acquirer; I don't see any clear evidence of that – but neither do I see any evidence that they're a particularly good one. As with any roll-up, end-market growth can cover up a lot of cracks – but if the RV market were to turn south, it would be interesting to see how Patrick performed operationally. It hasn't been getting a ton of juice (at least on gross margin) on the way up, and that doesn't really portend well for what might happen on the way down.
Valuation: High Risk, High Reward
As with many roll-ups, Patrick looks like a high-risk, high-reward candidate. If the market continues to go well, leverage and more deals will juice returns. If the market turns, however, 2x EBITDA is not-insignificant leverage for a company that saw its revenue and gross profit get slaughtered during the recession: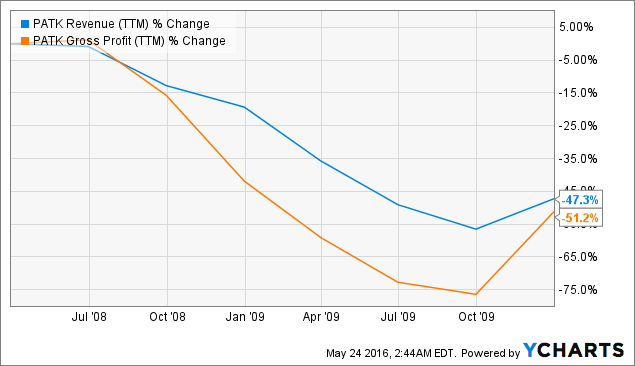 With that, whether or not you like Patrick really depends on whether or not you like the RV market. If you do, Patrick is probably going to yield high returns – in the "RVs-keep-selling" case, I think that operating margins (adjusted for amortization) can likely push into the low double-digits. The company could continue to drive double-digit revenue growth between ongoing RV market growth and deals funded by cash flow, and shares would likely have upside into the $70s over the next two or three years (assuming the multiple to operating income ticks down to around 10x to account for lower future growth at the end of the period). Further upside is certainly possible, but I tend towards conservatism in my modeling.
On the other hand, I also see a scenario where a dip in RV sales leads to a significant contraction in bottom line margins and higher effective leverage – in which case shares could be cut in half (or worse).
Longer-term, bulls would point to the company's position in manufactured housing and general industrial, and I would concede that these are issues I haven't addressed in depth. To the company's credit, manufactured housing is an industry I'm not bullish on (see here), but at least it appears to be earlier in its cycle than RVs. That said, these segments simply aren't large enough to really move the needle on their own – unless the company goes on a spree of deal-making outside of RVs, its fate is highly linked to how the RV market goes.
Final Thoughts
With RV sales closer to the peak of their cycle than the trough, I'm not particularly inclined to want to own a company this levered to them (and with this much leverage on the balance sheet). Nonetheless, for investors looking for a pure-play on the RV market, Patrick does offer an interesting angle.
Disclaimer: Investing is inherently subjective and this article expresses opinions. Any investment involves substantial risks, including the complete loss of capital. Any forecasts or estimates are for illustrative purpose only. Use of this opinion is at your own risk and proper due diligence should be done prior to making any investment decision. Positions in securities mentioned are disclosed; however, the author may continue to transact in any securities without further disclosure.
This is not an offer to sell or a solicitation of an offer to buy any security. All expressions of opinion are subject to change without notice and the author does not undertake to update or supplement this piece or any of the information contained herein. All the information presented is presented "as is," without warranty of any kind. The author makes no representation, express or implied, as to the accuracy, timeliness, or completeness of any such information or with regard to the results to be obtained from its use.
Disclosure: I/we have no positions in any stocks mentioned, and no plans to initiate any positions within the next 72 hours.
I wrote this article myself, and it expresses my own opinions. I am not receiving compensation for it (other than from Seeking Alpha). I have no business relationship with any company whose stock is mentioned in this article.